This is an archived article and the information in the article may be outdated. Please look at the time stamp on the story to see when it was last updated.
BROWNSTOWN, Ind. — Indiana State Police are continuing to investigate a deadly officer-involved shooting in Jackson County.
The shooting took place around 9 a.m. Wednesday, outside the Brownstown police department.
According to Sgt. Stephen Wheeles with Indiana State Police, a man and woman were involved in a domestic disturbance outside the police station.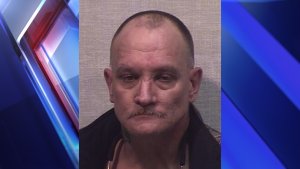 Two Brownstown police officers intervened and tried to take the man into custody. The man resisted their attempts to arrest him, Wheeles said.
"All we know at this point is that there was a disturbance outside the police department that the officers needed to deal with, and that's when it escalated, and officers felt threatened, and they needed to defend themselves," said Wheeles.
State Police say when officers tried to detain Barry Rucker, the 53-year-old pulled out a handgun, which led two officers opened fire.
"You know, all indications are the officers felt threatened by the gun that was produced and used force to defend themselves," said Wheeles.
The officers involved in the shooting were identified Thursday as Brownstown Chief Tom Manner and Assistant Chief Joe Kelly. They're both on administrative leave pending the outcome of the investigation.
According to court records, Rucker was charged with domestic battery and intimidation using a deadly weapon late last year.
Regardless of that past, State Police are leading the investigation to determine if the officers were justified in their use of deadly force.
"It's often the case with smaller departments, the State Police is often called in, and we'll use every resource we can to make sure the case is investigated impartially on both sides so we get to the facts," said Wheeles.
Officers provided first aid and an ambulance quickly arrived. Rucker was taken to an area hospital, where he later died. An autopsy is scheduled for Friday.
The woman involved in the initial argument and the officers who pulled the trigger were not injured.
Brownstown-The Indiana State Police is conducting the investigation into an officer involved shooting that occurred this morning outside the Brownstown Police Department.

All officers are ok. One person was shot and transported from the scene. pic.twitter.com/WTw7CkLKQW

— Sgt. Stephen Wheeles (@ISPVersailles) April 3, 2019
Witness tells me she saw a man and woman arguing/fighting in front of Brownstown police department before fatal officer involved shooting. No officers were hurt. Man has died. Witnesses says she heard at least 10 shots. @WDRBNews pic.twitter.com/HuVVWaWCNr

— Gilbert Corsey (@gcorsey) April 3, 2019