This is an archived article and the information in the article may be outdated. Please look at the time stamp on the story to see when it was last updated.
INDIANAPOLIS (June 12, 2015) – A woman has been arrested in connection with the videotaped fight at a Beech Grove Walmart store.
Amber Stephenson has been charged with neglect of a dependent (a level 6 felony) and contributing to the delinquency of a minor (a class "A" misdemeanor). She was taken to the Arrestee Processing Center Friday afternoon.
Earlier this week, a woman identifying herself as Stephenson told Indianapolis radio station WZPL's Smiley Morning Show that she was standing up for an employee when she got into a fight with a woman on a motorized scooter. According to store employees, the fight had nothing to do with race.
The other woman, identified in court documents as Rebecca Mills, will not face charges, according to the Marion County Prosecutor's office. A spokesman released the following statement:
Our decision was based on the safety and welfare of the child, not choosing sides in what appears to be a mutually combative situation.
The prosecutor's office said the Indiana Department of Child Services is involved in the case.
The probable cause affidavit says Beech Grove police were called to the Walmart Supercenter at 4650 S. Emerson Ave. on June 4, 2015, around 10:32 p.m. after a fight was reported there.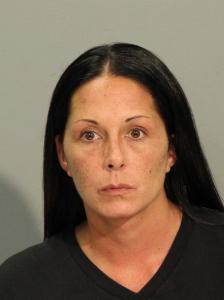 When they arrived, they heard from two people–Stephenson and Mills–who'd engaged in a fight at the store. According to court documents, an officer "observed blood on Mills' shirt and shampoo in her hair and face." Mills told police she was shopping on the motorized cart when she hit an employee's cart. That caused "the employee to yell at her and make an ugly face at her," according to Mills' account. She said Stephenson began yelling at her and then attacked her.
According to the employee's account, Mills struck the shopping carts and then yelled at the employee about moving the carts so she could get by. Mills then hit the carts "two or three more times." Mills became upset, the employee told police, and then yelled at the employee. The worker said Stephenson "then confronted Mills about yelling at the employees for doing their job" and "told Mills that she did not really need a motorized cart." Stephenson and Mills yelled at each other and used profane language. Mills "stood up from the motorized cart, threw a punch at Stephenson and both customers engaged in a physical fight."
Police watched surveillance video of the fight recorded on a cell phone by a witness. Audio gave them a clearer picture of what transpired.
Mills was heard telling the employee, "Shut up…you've aggravated me to no limit…for no (expletive reason)." The employee apologized. Then Stephenson came over and said to Miller, "You must hate your life."
Mills responded, "Don't think I can't get up and whoop your (expletive)." The employee said she wanted to get her manager because Mills was threatening her.
Stephenson then said, "(Expletive), you don't even look like you need to be in that wheelchair. Get your (expletive) up and do something."
Mills responded, "You want it? You want it? Are you (expletive) serious? You want it?" As they continued yelling back and forth, Mills got up from the motorized cart. Stephenson took Mills in a headlock and both fell to the ground.
Stephenson's 6-year-old son was with her during the encounter. On video, she's heard telling her son, "punch her in her face…punch her in her (expletive) face." As the fight continued, the boy then hit Mills and attacked her with a shampoo bottle.
The boy then confronts a group of people watching the fight and says, "Do not even tell me what to do!"
He then proceeds to take the cap off the bottle and squirts the shampoo on Mills' face and hair. Mills gets up and kicks Stephenson, who falls down. Both stand up and Mills says, "Wanna play?"
At this point a man separates the women and police arrive shortly after.
Beech Grove Police had said they were alarmed at the behavior of the young boy and were raising questions about the environment in which he was being raised.