This is an archived article and the information in the article may be outdated. Please look at the time stamp on the story to see when it was last updated.
MUNCIE (May 1, 2014) – A Muncie man who broke into a Catholic church rectory looking for valuables stole a bone fragment from a saint, police say.
On Sunday afternoon, Father Andrew Dudzinski called police after finding a man rifling through items at his residence at 2300 West Jackson Street in Muncie (the rectory for St. Mary's Church). Dudzinksi said he'd just returned from church services when he found the man in his rectory.
"I have problems, I'm dangerous, and I'm going to hurt someone!" said the man, who was wielding a hammer he'd used to break the window.
Police later identified him as Larry Allen Rhodes. Based on a description by the priest, Ball State University police arrested Rhodes shortly after the theft.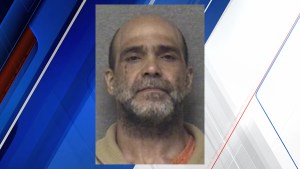 Among the items stolen was a religious relic containing a bone fragment from St. Rita of Cascia, an Italian nun who was canonized in 1900. She died more than 500 years ago and is considered the patron of impossible causes.
Rhodes had the relic and some other religious items in his possession, police said. He also had jewelry stolen from a home on North Calvert Street shortly before the theft from the priest. The relic and other items were returned to their rightful owners.
Rhodes initially told officers he knew nothing about the burglaries.
"Rhodes was unable to account for the fact he had no idea which saint the bone fragment belonged to, or why he would be in possession of it," according to the probable cause affidavit. "He also couldn't explain why a priest positively identified him as burglarizing his residence."
Rhodes later admitted he'd broken into the other house before using a hammer to smash through a window to get inside the rectory. He also admitted he'd confronted Dudzinski and threatened him with the hammer.
Rhodes said he was "looking for money and things of value" at both locations. He told investigators that St. Mary's Church had "previously helped him in obtaining his medications."
He was taken to the Delaware County Jail.