This is an archived article and the information in the article may be outdated. Please look at the time stamp on the story to see when it was last updated.
INDIANAPOLIS (Nov. 18, 2014) – A male robbery suspect was shot and killed by a pawn shop customer Tuesday afternoon, police say.
It happened around 2:15 p.m. at Cash America Pawn at 2428 E. 38th St.
Police say a person came into the business and showed a weapon. Multiple shots were fired. It is unclear if the suspect fired shots or just brandished his weapon. A witness claims both men fired shots.
"Three minutes, I watched the whole thing," said Jeremy Stewart.
Stewart said he was rounding the corner, about to go inside, when he saw a gun battle go down. Stewart told FOX59 Tyerre Allen and that customer exchanged shots, as others in the store searched for safety.
"Everybody was scared, was ducking and hiding," said Stewart, "By the time I made it to the door, he was already dead."
When officers arrived, they found the suspect shot multiple times at the entrance of the business. He was pronounced dead by EMS crews on the scene.
Police identified the suspect Tuesday night as Tyerre Allen, 25, of Indianapolis.  Allen was recently released from Indiana Department of Corrections for a robbery that occurred several years ago. Detectives with IMPD also identified him as a suspect in other robberies in the Indianapolis area.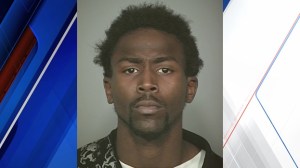 So who was the man behind the other gun? Police are not saying just yet. But they confirm they will have to present all the evidence to the Marion County Prosecutor's Office.
"The threshold for using force in that situation is clearly covered by our self-defense statute," said Ross Thomas, a criminal defense attorney in Indianapolis.
Thomas said if the story we've been presented with now is true, and if that customer is licensed to carry a firearm, he will probably be in the clear.
Thomas said Indiana has very far-reaching self-defense statutes, allowing you to use deadly force to protect yourself and another person from serious bodily injury or death, even giving protection against the commission of a forcible felony, like armed robbery.
"It's a very broad law by design," said Thomas, "You could justify deadly force in a situation like this by saying the person pulled out a gun, that's obviously a situation where there's potential for serious bodily injury."
Police tell FOX59 at this point they are not releasing the name of the customer, the shooter, because the man is traumatized by the events and currently afraid of any retaliation.