This is an archived article and the information in the article may be outdated. Please look at the time stamp on the story to see when it was last updated.
INDIANAPOLIS, Ind.  (Aug. 31, 2014) --Indianapolis Metropolitan police are investigating the death of a 15-year-old girl whose burned body was discovered in a backyard on the city's west side.
Officers were dispatched to the 1100 block of Elder Avenue at approximately 12:30 p.m. Sunday.  When they arrived, they found an unidentified deceased female suffering from apparent signs of fire trauma.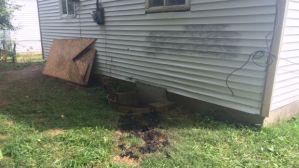 Detectives said the homeowner, Bradly Parks, was walking his dog when he discovered the girl's body in his backyard.  A charred mark still remains.
Authorities have not confirmed the victim's identity, but friends told FOX59 the 15-year-old girl was Dominique Allen.
Police believe Allen was killed at a different location, before her body was dumped behind the Elder Avenue house and set on fire.
"All I seen was a little wisp of smoke, and I assume the man was burning trash," said Willie Hawkins, who lives across the street from Parks.
Hawkins said he didn't think anything of the smoke he saw coming from his neighbor's backyard.
"I didn't see anybody out there or any cars pulling away, or anything like that," said Hawkins.
FOX59's Charlie De Mar spoke with one of Allen's friends, who said he was with her hours before she was found.
"She seemed happy and all cool, but after that, I woke up in the morning and found out she was dead," said friend Daymeion Davis.
Homicide detectives questioned a number of people in the area Monday, but no suspect or person of interest has been named.
"I don't see why they would want to do something to her," said Davis. "She's so young too, being 15...What could she have possibly done for you to sit there and burn her body like that?"
An official cause and manner of death will be determined by the Marion County Coroner's Office after an autopsy has been performed Tuesday.
Police ask anyone with information to call Crime Stoppers at 262-TIPS.
Ben Davis Schools released the following statement:
"The Metropolitan School District of Wayne Township was heartbroken to learn that a burned body found behind an Indianapolis home at 12:30 Sunday afternoon has been identified by the Marion County Coroner's Office as a Ben Davis Ninth Grade Center student.  The Indianapolis Metropolitan Police Department is still investigating this incident and has not released her name."

"This week we will have additional counselors available in our schools for students and staff who may need assistance."
Friends tell me body found burned was that of 15-year-old Dominique Allen. pic.twitter.com/fihbrLesoS

— Charlie De Mar (@CharlieDeMar) September 1, 2014