This is an archived article and the information in the article may be outdated. Please look at the time stamp on the story to see when it was last updated.
LEBANON, Ind. – A homicide investigation is underway after a man was found dead in a Lebanon home Sunday.
Officers were called to the residence in the 500 block of Dicks Street around 7 a.m. The man's wife, 68-year-old Sonja Foster,  flagged down a neighbor for help after she says the man stabbed her husband and attacked her.
When police arrived, they found 73-year-old Robert Maxwell Foster, known as Max, deceased and Sonja seriously injured. She was then hospitalized in Indianapolis and released.
By Sunday afternoon, police had a person of interest in custody, after surrounding a home in the 1500 block of South East Street with guns drawn.
WATCH: Video of Lebanon police officers surrounding the house on S East St, storming in to take teen/man into custody. Tip led police there. pic.twitter.com/IkPqClwaS7

— Deanna Allbrittin (@deannaTVnews) June 18, 2017
19-year-old Zachariah Wright is now arrested and in the Boone County Jail on a probation violation. Police say he was on parole for burglary, theft and public intoxication charges.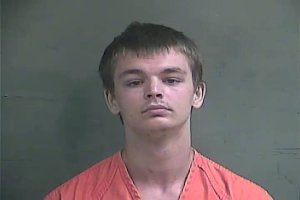 "Well, we had just heard that this boy had been bragging, but I don't, I didn't know if that was true or not ," said Karen Redman, who lives down the street from Wright. "You know, people say things."
Redman  says her parents also live down the street from the Fosters. She says Sunday has been a scary one.
It appears Max was stabbed to death while he and Sonja were sleeping.
Sonja is reportedly cooperating with investigators as they try to piece together what happened.
JUST IN: investigators say a man was found dead inside the house and a woman was injured and sent to the hospital. pic.twitter.com/ZdCeaavM0v

— Tricia Harte (@TriciaHarteTV) June 18, 2017