This is an archived article and the information in the article may be outdated. Please look at the time stamp on the story to see when it was last updated.
INDIANAPOLIS (August 25, 2015) - Indianapolis Metropolitan Police detectives are looking for a burglar who they say comes armed with a crowbar and a trash can.
The suspect was first caught on surveillance camera August 1, at the Family Dollar store located in the 2500 block of Dr. Martin Luther King Jr. Street. The video shows a man wearing dark clothing and white tennis shoes, approaching a side door of the building. The man is pulling a large trash can behind him as he walks up to the door. He then uses a crowbar to pry open the security door and walk inside.
Once inside the store, the suspect rolls the trash can through a back storage room to the checkout counter in the front of the store. He then fills the trash can with cartons of cigarettes before pulling the trash can back outside the store and down a side alley.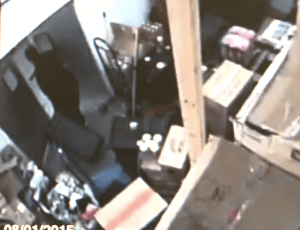 Detectives believe the same man was caught on camera attempting the same crime on August 9 and August 15. Each time, the man approaches the same door with a crowbar and trash can. However, a newly reinforced security door appears to prevent the suspect from entering the building.
All three incidents occurred between 4 a.m. and 6:30 a.m.
Shoppers at the relatively new Family Dollar store hate to see it targeted in such a way. They say the store has become more important since the recent closure of Double 8 Foods, not far away.
Shoppers say the repeated attempts at burglary sound like the actions of a desperate man.
"He's selling it," said shopper Robert Thompson. "He's probably on some kind of drugs or something."
"He might not have no job," said shopper Zarkeeta Moonlock. "He might be doing it to support his family. But it's still wrong. All he needs to do is get a job."
Detectives are hoping for tips from the public in solving the case. Anyone with information can call IMPD Northwest District at (317) 327-6600, or Crime Stoppers at (317) 262-TIPS.