This is an archived article and the information in the article may be outdated. Please look at the time stamp on the story to see when it was last updated.
COLUMBUS, Ind. (April 14, 2014)— The Columbus Police Department is searching for two people accused of stealing several items from church vans and hitting a woman as they attempted to flee the area.
Officers responded to the Wendy's at 1915 W. Jonathan Moore Pike around 3:20 p.m. Sunday in reference to a theft report. Police said a black male with a shaved head and a thin black woman were witnessed breaking into a couple of church vans. Electronic equipment, credit cards and cameras were taken during the incident.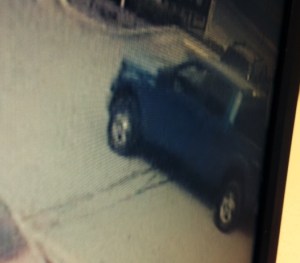 Authorities said the suspects hit a woman who was holding a 20-month-old child as they fled the parking lot. The woman sustained minor injuries.
Officers later responded to Wal-Mart, where another car break-in was reported. Police said at least one handgun was stolen.
Columbus police believe the two incidents are connected. Investigators believe the suspects used some type of device to knock the lock cylinders out of the vehicles in order to gain entry.
The suspects were seen fleeing the scene in a newer blue Ford F-150 with an Indiana registration tag.
Anyone with information regarding the suspects is urged to contact police at 812-376-2600.