This is an archived article and the information in the article may be outdated. Please look at the time stamp on the story to see when it was last updated.
By Kendall Downing
ELWOOD, Ind. – A central Indiana town remains shaken after the violent death of a 66-year-old grandmother.
Late Friday afternoon, Elwood Police announced they arrested 68-year-old George Knotts and preliminarily charged him with murder, strangulation, criminal confinement, and aggravated battery in the homicide of Linda Speer.
A relative of George Knotts' told FOX59 that he is Linda Speer's brother-in-law.
Dozens of neighbors and family members came to a news conference Friday afternoon to announce the charges. Audible gasps came from the crowd when detectives read the name of George Knotts. Many of those in attendance were family members of Linda Speer.
"He took our Linda from us, that's all there is," said Kevin Burt, Speer's son-in-law, "She was everybody's everything."
One of Linda Speer's daughters found her body inside her home at 1815 North C Street in Elwood Tuesday night around 11 p.m.
Madison County Coroner Marian Dunnichay said Speer died a violent death sometime Sunday or Monday with blunt force trauma to the head and multiple sharp, traumatic injuries to the chest.
The way Speer died haunts her family.
"You know when your grandparents get older they're going to eventually die, but what you don't expect is for them to get taken from you in a way you won't ever forget or forgive that moment," said Elizabeth Swan, Speer's granddaughter.
Neither police nor family members of Linda Speer would tell us about the relation between her and her suspected killer, George Knotts. But FOX 59 learned after the news conference he is Linda Speer's brother-in-law. Her sister died recently.
"She'd give you anything and everything you had if you needed it, didn't matter if she needed it, she was just that type of person," said Judy Shaw, a longtime neighbor.
Shaw is stunned her friend of three decades is gone.
Even Friday there still remained a growing memorial of flowers and candles outside Speer's home, a testament to the woman neighbors called sweet and special. Her family just called her grandma.
"She was a golden spot in your life, that's where we went for everything was grandma's house," said Elizabeth Swan.
George Knotts remains in the Madison County Detention Center pending formal charges.
ELWOOD, Ind – Elwood Police have arrested a man in connection with the murder of an Elwood woman. On Friday, Elwood Police announced the arrest of George Knotts, 68, on preliminary charges of murder, strangulation, criminal confinement and aggravated battery.
"I want to publicly commend Detective Nick Oldham and his team on their outstanding work. We have taken great pride in having a world class police department here in Elwood and this investigation proves the quality of our officers and the leadership we have in the Elwood Police Department. The citizens of Elwood can rest easy knowing that Chief Caldwell and his department will continue to keep our community safe and secure," said Mayor Ron Arnold. "Our thoughts and prayers go out to Linda's family. It is my hope that this arrest will help the family begin to bring closure to their horrific loss."
Investigators found 66-year-old Linda Speer's body inside her home at 1815 North C Street on Tuesday night in Elwood.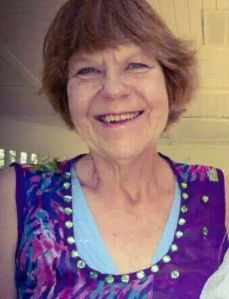 Her daughter Jan discovered her, when family and neighbors reported they hadn't heard from Speer in a few days and her paper wasn't picked up on Monday. The Madison County coroner told FOX59 on Friday that Speer's death was clearly a homicide. Speer had blunt force trauma to the head and multiple traumatic, sharp injuries to the chest. The coroner said Speer's death was violent and the crime scene contained in a specific area of the home, though she wouldn't elaborate. As for a timetable, investigators believe Speer died sometime between midnight Sunday and Monday at noon. Speer had just turned 66 years old, according to family, and was a grandmother. Neighbors on her street said Speer had a giving heart and was very friendly, often keeping her windows and doors open and talking to anyone who would pass by. They held a candlelight vigil for her on Thursday night. FOX59's Kendall Downing is working this story and will have more tonight on FOX59 News at 10 and NewsPoint at 11.