This is an archived article and the information in the article may be outdated. Please look at the time stamp on the story to see when it was last updated.
BLOOMINGTON, Ind. — A Monroe County man was arrested in California late Thursday night after police believe he set a fire that killed a Bloomington woman, and he falsely claimed to be her son in order to inherit her multi-million dollar estate.
Noel Montes Cazares, AKA "Giovanni Bush", 49, was arrested Thursday for arson, murder, neglect of a dependent and obstruction of justice after a Monroe County judge issued an arrest warrant.
His arrest comes after 85-year-old Lerae Britain Moeller Bush was found dead inside a home near Bloomington.
On February 10, 2018, rescue crews and investigators were called to 5601 Handy Road by a neighbor at 11:29 a.m. Upon their arrival, Perry-Clear Creek Fire Protection District found a structure that was fully engulfed in flames.
Investigators also found a man who identified himself as Giovanni Bush outside the structure. Bush told investigators his mother was deceased inside the home, and that he had been unsuccessful in trying to rescue her. He was then taken to a nearby hospital for treatment of minor injuries.
The Indiana State Fire Marshal was called to the scene along with Indiana State Police Detectives. The Monroe County Fire Investigation Task Force assisted as well.
Investigators located documents at the scene belonging to Noel Montes Cazares along with a photo that possibly appeared to be the same as Giovanni Bush, leading investigators to question his true identity. The suspect indicated the deceased female was his mother, although investigators could find no records to confirm their relationship.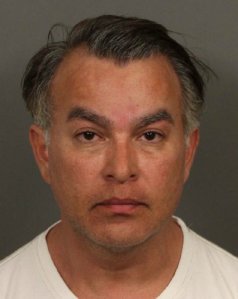 Family members later told detectives that to their knowledge, Lerae Bush never had children, and she owned artwork, collectibles and real estate nationwide valued well above $10 million.
Subsequent investigation determined Lerae Bush suffered from dementia and Alzheimer's disease, and was dependent on Noel Montes Cazares for food, transportation and clothing. Detectives found no source of employment for Cazares and the residence in which she died had no functioning utilities.
Neighbors told detectives they were surprised anyone lived in the structure.
The investigation later revealed a trust agreement in the name of Lerae Bush with one beneficiary, which had been removed and replaced with the name of Giovanni Bush.
According to the Herald Times, Bush kept a solitary life. But she was reported missing in southern California in January 17. A photo of her circulated before she was later "found in good health." Police believe he fled Indiana to California to try to claim her properties and estate.
Due to conflicting statements delivered by Cazares, witness information and evidence at the scene, an arrest warrant was issued yesterday afternoon in Monroe County. The Riverside County Sheriff's Department in California later arrested Cazares without incident.
Indiana State Police detectives now begin the process of extradition.
The investigation is ongoing by the Indiana Fire Marshal's Office and the Indiana State Police. Additional charges could follow.