This is an archived article and the information in the article may be outdated. Please look at the time stamp on the story to see when it was last updated.
INDIANAPOLIS (March 3, 2016) — Indiana now has a new lieutenant governor.
Eric Holcomb was sworn in Thursday afternoon at the Indiana Statehouse, taking the oath of office from Indiana Supreme Court Justice Mark Massa.
Gov. Mike Pence called Holcomb a "Hoosier through and through" and said he's proud for Holcomb to join the administration.
The Indiana Legislature confirmed Holcomb, a former state Republican chairman, during votes earlier Thursday.
"Eric has a heart for public service and a love for Indiana like few people I've ever met, and I'm grateful for Eric and his wife Janet's willingness to serve this state," Pence said. "I know that Eric's enthusiasm, integrity, and extensive experience at both the state and federal level will serve him well as he assumes the duties of the Office of the Lieutenant Governor."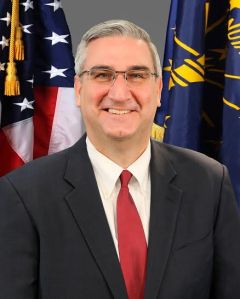 Holcomb said he was excited and proud to accept the post.
"I am grateful for the opportunity to work alongside Governor Pence to build on Indiana's strong foundation and make tomorrow stronger. I'm eager to get started, and I look forward to hitting the ground running to serve the Hoosiers of this great state," he said.
The state Senate voted 50-0 shortly after the House voted 91-3 Thursday morning to approve the nomination. Holcomb succeeds Sue Ellspermann, whose resignation was effective Wednesday.
Republican legislative leaders praised Holcomb's selection, citing his experience as a top aide to former Gov. Mitch Daniels. Senate Democratic leader Tim Lanane said he would go along with Pence's pick, but that he questioned the reasons given for the change.
Ellspermann is applying to become Ivy Tech Community College's new president, but she and Pence have differences over civil rights protections for lesbian, gay, bisexual and transgender people.