This is an archived article and the information in the article may be outdated. Please look at the time stamp on the story to see when it was last updated.
INDIANAPOLIS, Ind. – Vice President Mike Pence joined Gov. Eric Holcomb and officials from tech firm Infosys for a major high-tech jobs announcement Thursday.
And in the video above, Pence's former press secretary Marc Lotter discusses the larger impact on the economy, and the potential impact of the Republican tax cuts on the 2018 midterms.
Thursday afternoon, Infosys announced it will establish its U.S. Education Center in Indianapolis to train American workers and arm them with skills for the digital future. The company also announced that it has expanded its hiring plans for Indiana from 2,000 to 3,000 new jobs by the end of 2023.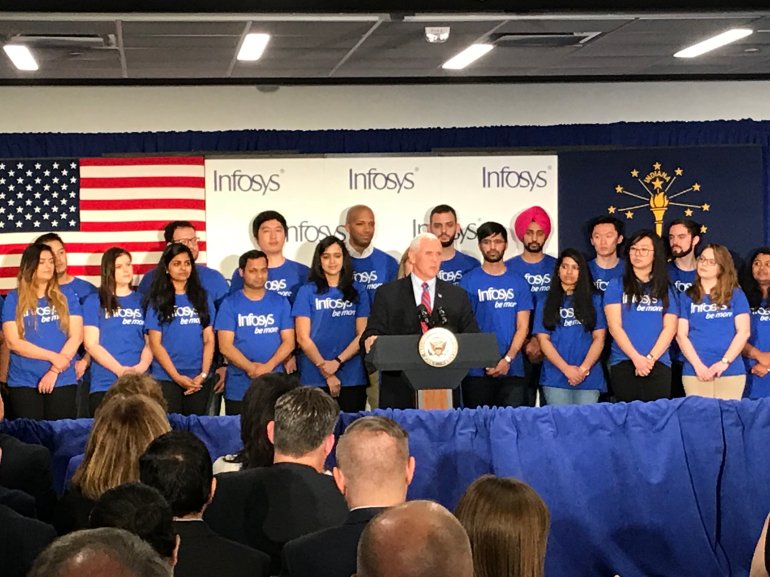 Our media partners at the IndyStar reported that Infosys agreed to terms Monday with the Indianapolis Airport Authority, the city and the Indiana Economic Development Corporation. City and state development incentives are folded into the deal, the newspaper reported.
"Today's announcement with Infosys is a big win-not just for Indiana but for the nation as a whole, which is why I'm glad Vice President Pence was able to join us," Governor Eric J. Holcomb said. "Infosys' state-of-the-art training facility will teach thousands of folks across America right here on Indiana soil. And, it will help prepare more current and future Hoosiers for success in our rapidly evolving, global economy."