This is an archived article and the information in the article may be outdated. Please look at the time stamp on the story to see when it was last updated.
INDIANAPOLIS, Ind. – President-elect Donald Trump and Vice President-elect Gov. Mike Pence visited Indianapolis on Thursday to discuss details of a deal with Carrier that would keep 1,100 jobs in Indy.
After touring the plant, Vice President-elect Mike Pence introduced Trump to a room full of Carrier workers. "As governor, I couldn't be more proud that thanks to the initiative and the leadership of President-elect Donald Trump Carrier has decided to stay and grow right here in America."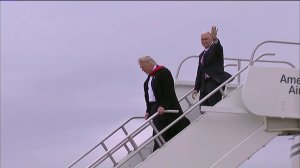 Trump made saving U.S. jobs one of his top campaign promises. He singled out the Carrier during the campaign, blasting the company's decision to move jobs from Indiana to Mexico in a cost-cutting move.
On Tuesday, Trump and Carrier announced they'd reached a deal to keep hundreds of those jobs in Indianapolis.
While speaking at Carrier, Trump announced that the number of jobs staying in Indianapolis is more than 1,100.
Trump told the crowd he has a "love affair" with the state and he first got involved after hearing a Carrier worker on the evening news.
He praised United Technologies CEO Greg Hayes several times throughout his speech, saying Hayes and his company "stepped up" to keep jobs in Indiana.
"I called Greg, and I said it's really important.  We have to do something.  Because you have a lot of people leaving and you have to understand we can't allow this to happen anymore with our companies.  So many jobs are leaving and going to other countries."
FOX59 has learned that ultimately Carrier's decision to stay came after the state of Indiana offered Carrier a $7 million tax incentive package over 10 years. Those incentives are contingent upon several factors including employment, job retention and capital investment. According to a report from the Wall Street, the company will also invest about $16 million to keep operations in the state.
Trump reiterated his support for stronger borders, especially to the south with Mexico, and said people would be able to come and go "legally." The wall, he said, would prevent drugs from getting into the U.S., another point he even stated during his campaign. The president-elect said he wanted to lower the business tax from 35% to 15% and ease regulations to foster a climate more suitable for businesses.
"I want to let all the other companies know that we're going to do great things for businesses." He warned of "consequences" for businesses that choose to leave the U.S.
Carrier employee Jeff Blackford said he's worked for the company for 25 years. When he heard the news about cutting jobs, he said he was worried.
"I was scared, I've been here for 25 years and I didn't know what I was going to do," he said.
Blackford said he's thankful for the new deal with the company.
"I know there was a whole big team of people that actually pulled this off," he said. "If he's done this for us here in Indiana before he's even been elected, my gosh I can't wait until he gets in office to see what he'll do for the country."
He said he's looking forward to a good Christmas and being able to retire with dignity.
Dawn Kinnard, a 21-year employee, works there with her husband and father. She said it was a very positive feeling to see the President-elect walk in.
We asked if she thinks they will keep good on their promises.
"If they don't, it'll look really bad on them, so that's on them to keep it up," she said.
Indianapolis Mayor Hogsett released the following statement about the Carrier announcement on Thursday:
"Today's announcement is welcome news for hundreds of hardworking Indianapolis families and I am thankful that it appears many dedicated Carrier employees will continue to have good-paying jobs in this city.

As Mayor, I'm mindful of who wasn't in the room today – hundreds more Indianapolis workers whose jobs are leaving or have already left our city. We owe it to those families to come together as a state and a country to enact much-needed reform that will prevent future offshoring of Indianapolis jobs and invest in our local workforce.

Working families in Indianapolis need our help more than ever, and I will continue to fight for them each and every day."
Leader for Indiana's Republican Party were quick to trumpet the deal:
"Today, President-Elect Donald Trump and Vice President-Elect Mike Pence have given the American people just a small example of their exemplary leadership. This is good news for not only our state, but for our country. The Trump Administration is dedicated to protecting and fighting for American workers, and this announcement to keep over 1,000 jobs in Indiana is just the beginning of making America prosperous and great again."
John Zody, chairman of the Indiana Democratic Party, said in statement that he was pleased that workers would keep their jobs but lamented that other positions would be headed outside the U.S.:
"Today's announcement is great news for the Hoosier families and workers who will get to keep their jobs – though we are disappointed the company will still ship a good portion of jobs abroad. We hope that moving forward, all workers will have a seat at the table and that a Trump-Pence Administration will follow the lead of common–sense Hoosiers like Joe Donnelly and Andre Carson, who have been working to hold Carrier accountable since the moment their announcement was made to ship jobs to Mexico.

We also hope the state will act in a transparent fashion with respect to awarding taxpayer–funded incentives that, as Mayor Joe Hogsett is doing, will be clawed back when a company decides to cut Hoosier jobs."