This is an archived article and the information in the article may be outdated. Please look at the time stamp on the story to see when it was last updated.
I'll admit it:  I used to think about how "cool" it would be to eat whatever I wanted as a pregnant woman and not be concerned about weight gain. After all, my job requires me to look presentable every evening to thousands of people on FOX59, and the camera isn't friendly to my dream diet of cheeseburgers and French fries!  [For the record, the camera does add 10 pounds.]
So, I thought … once I get pregnant, I will have a FREE PASS to eat whatever I want and no one will send me emails or tweets about gaining weight!
Unfortunately, I've realized that I can't and don't want to eat like I thought I would. With two babies in my belly, there is just not enough room. I am full!
While I am not eating as much as I thought I could get away with during pregnancy, I am eating some really random things.
Cue — pregnancy cravings!

Braunschweiger. Liver. Sausage. This craving I blame on my friend Debby Knox. 🙂 Early in my pregnancy, Debby mentioned she ate liver sausage constantly during her first pregnancy. Well, the babies apparently heard that and now I make a sandwich every night with liver sausage and yellow mustard (YUM!).
I also crave mozzarella – plain, on a sandwich or with tomatoes. Give me the mozzarella! I used to rarely buy the Italian cheese. Now, it's at the top of my grocery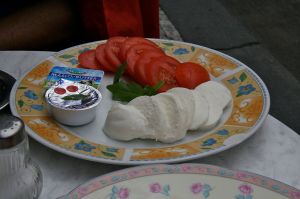 list. This isn't a surprise though since my mother is Italian, and I grew up eating piles of fresh mozzarella on every dish with a side of pasta.
Lemons.  I've always loved lemons. Now, I really love lemons. I want a GIANT glass of lemonade constantly. Last time I was at McAlister's Deli, I asked for five extra lemons in my lemonade. I should've just asked for the whole lemon! I'm pretty sure the woman behind the counter looked at me and smiled ONLY because she saw my bump. #Twinning
The wonderful Dr. Mary Pease with IU North tells me pregnancy cravings and food aversions are a normal part of pregnancy.  But WHY I'm craving liver sausage, mozzarella and lemonade isn't quite clear.
"No one really knows what food cravings are. We do know that an increase in hormones causes women`s taste and smell to change and we think that introduces a whole new group of foods that people all the sudden have an interest in," explained Dr. Pease.
Dr. Pease says the number one craving her patients talk to her about isn't fruit or veggies – it's ice cream.  And, babies DO need calcium.
The best foods to eat during pregnancy are lean meats and of course fruits and veggies. Moms-to-be need extra iron, calcium, folic acid and vitamin D to help the baby grow. Here's a great infograph with suggestions on what to eat while pregnant.
Speaking of calcium, I made what I thought was a delicious homemade milkshake this week for the babies: two bananas, almond milk, ice and a giant scoop of peanut butter. I thought it tasted fantastic – A & B agreed!
I left some in the fridge for my husband. His response after trying it, "it tastes like the ground!"
HA! Maybe my taste buds ARE off!
Many of you shared YOUR pregnancy cravings with me on social media. THANK YOU!
A lot of them were wild and hilarious: Fruit Stripe gum, jalapenos, Wendy's Frosty, seafood enchiladas and BBQ sauce. Check out my Facebook page to see more!
Regardless of your craving, it's important to remember that weight gain is necessary. Dr. Pease says for a singleton pregnancy a healthy woman should gain between 25-35 pounds. For a healthy woman carrying twins (ME!), an appropriate weight gain starts at 35 pounds and increases to 50 pounds. YIKES!
My on-camera job is about to get even more interesting!
Thank you for your emails, comments and tips – please keep them coming.
XOXO/MWAH,
Nic
#Twinning at 16 Weeks
Follow my journey on social media, using hashtag #PencePregnancy
You can also follow me on my social media accounts!