This is an archived article and the information in the article may be outdated. Please look at the time stamp on the story to see when it was last updated.
Severe weather preparedness week continues here in central Indiana and our Wednesday topic of discussion: warnings.  And the most simple way to remember what a warning means is that it's action time.  Take shelter!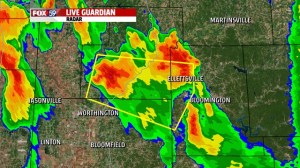 Severe Thunderstorm Warning:
A severe thunderstorm warning is issued when a storm has developed and is being detected on radar by the NWS.  The warning is issued to warn people in the path that a strong storm is headed in that direction.  Warnings will include a time that it's in effect til, counties and towns in the warned path and what that storm is producing.  Severe thunderstorms can produce:
Large hail (generally 1″ in diameter or larger)
Strong winds (60 mph is typically the threshold to issue a warning)
Intense Lightning
Flooding rains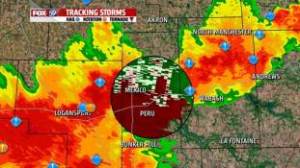 Tornado Warning:
A tornado warning is issued when a thunderstorm shows signs of tight rotation or a storm spotter confirms that a tornado is on the ground.  This sets off the local outdoor warning siren system for those in the path of this storm.  The warning information will detail how long the warning is in place for, what counties and towns are in the path, the speed of the storm and the direction to take cover immediately.
What you need to do:
If a severe thunderstorm warning is issued for your location, the first step you need to take is to get indoors immediately.  See the picture of the person standing outside in the thunderstorms to the left… don't do that! Get inside. Storms produce lightning, large hail and high winds and those are not things you want to be exposed to outside.  Getting under an overhang like a porch or an opened garage is not enough.  You want walls between you and the outside.  Lightning can actually still strike under a covered area like a porch, pavilion or especially trees.
If a tornado warning is issued for your area, you may be able to hear the outdoor warning system or you might get that notification through a phone alert or the notification on your TV.  At that time, go to your safe spot immediately.  Make sure everyone is accounted for and that your severe weather emergency kit is there.  You can stay up to date on what's happening by having a TV in your safe spot, checking the internet, listening to your weather radio or watch the live streaming news from Fox 59.  You should not leave your shelter spot until the storm has passed your area and you know the warning has been dropped.
Where to take shelter: