This is an archived article and the information in the article may be outdated. Please look at the time stamp on the story to see when it was last updated.
What does it mean?
That's the question many people are asking after a tweet from President Donald Trump. The tweet went up around midnight and appears to be a half-finished thought or a misspelling.
"Despite the constant negative press covfefe," the tweet reads. The president, who's known as an active Twitter user who often takes to the social media platform to discuss the news of the day, left the tweet up for several hours before deleting it around 5:45 a.m.
Here's a screen capture: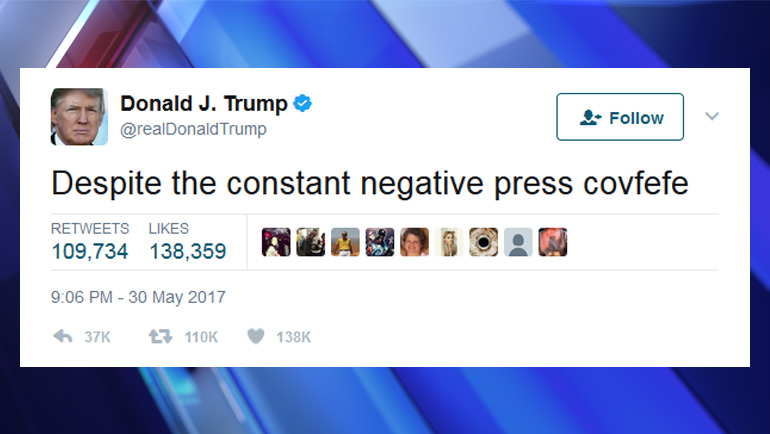 The president appeared to have some fun with it Wednesday morning, tweeting: "Who can figure out the true meaning of "covfefe" ??? Enjoy!"
Who can figure out the true meaning of "covfefe" ??? Enjoy!

— Donald J. Trump (@realDonaldTrump) May 31, 2017
So far, the tweet has more than 123,000 retweets and more than 157,000 "likes" on Twitter. People have also replied to the president some 40,000 times, many of them baffled by the meaning behind "covfefe." The hashtag #covfefe quickly became a trending topic, and Twitter users had plenty to say about it:
https://twitter.com/The_Karmelian/status/869838742181236736
https://twitter.com/australianewsw/status/869837607127142400
An FBI director once tried to test me. I ate his #covfefe with some fava beans and a nice chianti… pic.twitter.com/ka2WZI0dmX

— Mbali (@ZuluFlower) May 31, 2017
Just a happy little #covfefe pic.twitter.com/gfpxhnRSor

— Robert Hannam (@RobRavenclaw) May 31, 2017
#CovfefeGate #covfefe
Draw > words pic.twitter.com/25b92JdsFK

— astronoobie (@Astronoobie) May 31, 2017
#MakeCovfefeGreatAgain : Holy Mother of God … California man orders COVFEFE license plates tonight! LMMFAO … witness to genius. #Covfefe pic.twitter.com/Su5eZdA5JO

— John Moffitt 🌊 (@JohnRMoffitt) May 31, 2017
https://twitter.com/chaudhry_nabeel/status/869831261019398144
https://twitter.com/Darlene26811165/status/869849185171849216
$10 says it's the nuclear codes #covfefe

— Clea DuVall (@cleaduvall) May 31, 2017
https://twitter.com/TheSwogBlog/status/869776036287975425
It's already gone. 😳 #covfefe pic.twitter.com/WGQJKLYDVo

— theBreaker.news (@theBreakerNews) May 31, 2017
Wakes up.
Checks Twitter.
.
.
.
Uh…
.
.
.
📈 Lookups fo…
.
.
.
Regrets checking Twitter.
Goes back to bed.

— Merriam-Webster (@MerriamWebster) May 31, 2017