This is an archived article and the information in the article may be outdated. Please look at the time stamp on the story to see when it was last updated.
INDIANAPOLIS – Thursday's funeral procession for Indianapolis Metropolitan police officer Rod Bradway will include up to 1,000 police cars from Indianapolis and other districts around the state.
The procession will start at Bankers Life Fieldhouse after an 11 a.m. public memorial. It will conclude at Crown Hill Cemetery on 38th Street.
The procession will pause twice: at Wayne Township Fire Station No. 81 where Bradway worked before joining IMPD and at the IMPD Northwest District where he served.
Here's the route: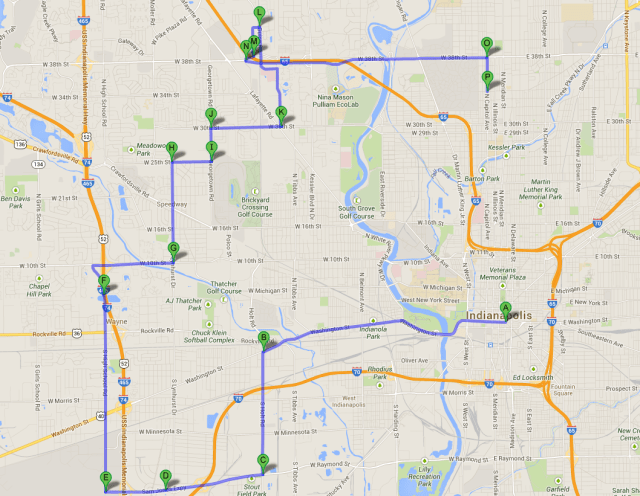 Drivers should be aware of several road closures in downtown Indianapolis starting at 6 a.m. Thursday. Those are:
Southbound Pennsylvania at Washington Street (there will be an emergency lane coned off)
Southbound Pennsylvania at Maryland Street
Southbound Delaware at Maryland Street (Access will be provided to Bankers Life loading ramp for employees needing access to the stadium)
Eastbound Georgia St. at Meridian (Access point for designated parking on Pennsylvania)
Northbound Delaware at South St. will be restricted; police cars will be parked in four lanes. An emergency lane will remain open for access to City Way, the Alexander Hotel and Virginia Street garage.
Drivers should expect long delays on the streets and intersections where the funeral procession will take place. IMPD said once the procession begins, it will not stop until it reaches its final destination. Drivers should allow extra time and seek routes around the procession.  A member of the public must attend both the funeral and burial services. IMPD said the public will not be admitted to the cemetery if they're not in the original procession. Parking for the public at the Bankers Life Fieldhouse service will be at the south lot.
IMPD encourages the public to show its support by lining the procession route, waving flags and displaying notes of support.