This is an archived article and the information in the article may be outdated. Please look at the time stamp on the story to see when it was last updated.
INDIANAPOLIS – Three people charged in connection with the Nov. 10 explosion in the Richmond Hill neighborhood will not face the death penalty.
Marion County Prosecutor Terry Curry said he would request life in prison without parole for Monserrate Shirley, Mark Leonard and Bob Leonard, Jr.
The suspects face two counts of murder in addition to charges of arson and conspiracy.
Prosecutors said the three plotted to blow up Shirley's home at 8349 Fieldfare Way in a bid to collect insurance money. Jennifer and Dion Longworth died in the blast, which also destroyed or damaged dozens of homes.
"This decision was arrived at after thoughtful consideration in accordance with our procedure in potential capital cases," Curry said. "The intentional acts of the defendants, as alleged, were undertaken with no regard whatsoever to the tragic consequences which did in fact flow from a scheme to blow up the Shirley residence. Those alleged acts, if proven, thus justify that the defendants spend life in prison with no option for parole."
A request for life without parole requires aggravating circumstances. According to Curry, those aggravating factors include the unlawful detonation of an explosive device, multiple deaths and that Dion Longworth died as a result of direct contact with the fire that resulted from the blast.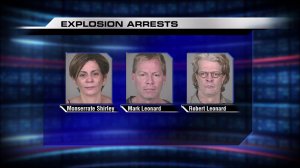 Shirley and the Leonards face charges of conspiracy to commit arson, 12 counts of arson (class A) and 33 counts of arson (class B).
All three defendants will face another count of arson (class B) for damage to Richmond Hill homes that did not need to be demolished.
Shirley will face an additional charge of insurance fraud. She and Mark Leonard will also face a count of conspiracy to commit insurance fraud, the prosecutor said.
Mark Leonard will face another conspiracy to commit insurance fraud charge unrelated to the explosion. Curry said Leonard and David Gill submitted a claim for a stolen motorcycle. It was later determined that the pair had disassembled the motorcycle.
The Richmond Hill suspects are due in court Feb. 21 for a pretrial conference.