This is an archived article and the information in the article may be outdated. Please look at the time stamp on the story to see when it was last updated.
INDIANAPOLIS, Ind. (Dec. 30, 2014)-- When Troy Riggs was hired as director of public safety in 2012, federal grants were overdrawn, the city was behind on paying its bills to contractors, IMPD was hemorrhaging manpower with no new recruits in the pipeline, the budget was bursting and there was no toilet paper or hand towels in some police headquarters.
On the verge of his third new year as the leader of Indianapolis' public safety, Riggs thinks he's stemmed the metaphorical blood even though the city's homicide and murder rates are the highest in years.
"I think if you look at Indianapolis, we are well-tooled for 2015. As far as a safer place, I think basically we are about where we were two years ago. But you have to realize that's probably a good place for us to be in in some respects because of the amount of heroin that's hitting the streets of every major city in our nation, the amount of poverty that's growing, the lack of individuals in our city that lack the basic skills to be successful. That's why we're dealing with the root causes of crime."
Indianapolis' homicide rate is at approximately 150, about fifteen above a year ago.
The murder rate is 135, compared to 120 in 2013.
"But if you live in Indianapolis and you're not a drug dealer, you don't have a past crime, you don't have a past gun crime, you do not have a past felony crime, the chances of you being a victim of a violent crime whether it's a homicide or a shooting, it's still pretty low," said Riggs.
"One of our goals is to see how we can reduce the amount of homicides by working with the statehouse on mandatory minimum sentencing. You have to realize your police department is doing a great job of arresting people only to have to rearrest them until they commit a homicide. 92 percent of all of our homicide suspects have a criminal past. 83 percent of our homicide victims have a criminal past."
"Best case scenario is we are tracking people coming back from prison, that the 5,000 - 8,000 people that are coming back that we're tracking them, that we're holding people accountable when they break the law. That we have mandatory minimum sentencing that could reduce our homicide rate by 20-25 percent."
In the spring IMPD installed a new process for reporting crime statistics and, as a result, can't provide any year-to-date results to determine if Indianapolis is a safer city as compared to a year ago.
Riggs points to the city's emphasis on six target zones which account for nearly a third of crimes in Indianapolis as proof that data-driven enforcement will become essential to improving the quality of life in Marion County.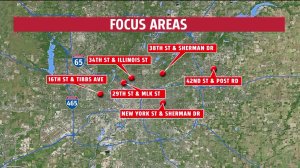 "We also need to look at those quality of life issues that every city is struggling with across this nation," he said. "How are we going to deal with mental illness that is rampant, that is 30 percent of those that are arrested? We've got to come up with a solution for that long-term for the city of Indianapolis."
"Why are we taking them to jail?" Asked Riggs, "Could we take them to an engagement center where they can get assistance for their disease?"
"We have to look at vacant housing. We have 24-35 percent of the homes in these areas that are vacant. We have individuals who are living in poverty. Individuals that lack the basic skills necessary to get a middle income job."
Animal Care and Control begins the new year with its third director in 2014.
"We made some significant changes in leadership there. We're going to continue to fine tune that over time. We've set goals and objectives for the first time in history. We've made repairs to the animal care and control facility as we can with the limited finances we have for that. We have reached a save rate that is 75% where it had been hovering around 50% for years."
In 2013 Riggs and Indianapolis Police Chief Rick Hite reassigned more than 120 officers to patrol duties to improve IMPD's response time to calls for assistance.
"We're going to be able to hire at least 90 officers over the next couple years. If we have more retirements than expected, we're going to hire more to meet that retirement number. We're one of the few major cities across this nation that's actually hiring above attrition. I believe over the next couple years we'll have an additional 100-200 more officers on the streets of Indianapolis."
Riggs said his department has managed to spend $8 million on new officers while operating the same budget as his predecessor.
DPS has also reorganized the citizen complaint review process.
"We've streamlined the complaint process, we've made sure that we have revamped the administrative process completely and the criminal process."
When asked to assess his department's grade point average for 2014, Riggs says budget management gets an "A," manpower utilization gets a, "strong B," quality of life for the city as a whole a "B" and his grade for community morale is incomplete as the director said in 2015 his department will undertake its first customer satisfaction survey.
Riggs will unveil his 2015 goals, which he has promised will be more stringent and agressive, in mid-January.
"So, short term goal would be some of the things you've already seen us do. The save haven for kids.  Summer jobs programs for young people. Jobs programs for people who are re-entering. Those are the things that we can do pretty quickly."
Public safety accounts for more than 80 percent of the city's general fund spending and Riggs is well positioned to get the most bang for Indianapolis' bucks in the final year of Mayor Greg Ballard's administration at a time when the only announced candidate for mayor, democrat and former U.S. Attorney Joe Hogsett, is thus far basing the campaign on his law-and-order experience.