This is an archived article and the information in the article may be outdated. Please look at the time stamp on the story to see when it was last updated.
INDIANAPOLIS (July 13, 2015) — The first bout of severe weather swept through central Indiana Monday afternoon, leaving thousands of residents without power.
Indianapolis Power & Light reported more than 35,000 outages as of 1:40 p.m. around Marion County.  By 3:30, repair crews had the number below 34,000, but they still had a long way to go.  One IPL repair crew chief said their teams were responding to about 600 individual jobs around Indianapolis and Marion County.
Some of those jobs included trees and branches that had brought down power lines.  Naoma McClure lost power to her home off Michigan Street in the Speedway area.  She said the powerful storm was loud enough to frighten her.
"I thought it was a tornado," McClure said.  "And I went and ran and hid in the bathroom and the bathtub.  And I kept hearing all these branches and stuff, you know slap the house and stuff."
After the storm passed, McClure came outside to find tree branches all over her front yard.  Then, she looked behind her house and saw a massive tree broken off at the base of its trunk.  The tree had brought down power lines and left many of her neighbors in the dark.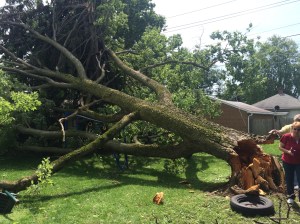 On the northeast side of Indianapolis, off 75th Street near Keystone Boulevard, Frederick Gates had already called his insurance company to survey the large tree resting on the corner of his house.  The tree had damaged the roof and gutter on the corner of his home.
"A tree on the house," he exclaimed.  "I'm not too happy.  Because now you've got to look, there's going to be leaks anywhere in the house."
In southern Broad Ripple, an IMPD officer was using the flashing lights on his cruiser to block and alley behind the 5300 block of North Park Avenue.  The storm had brought down another set of wires, and they were still live behind several homes.  Jim Leahy remembers seeing a bright flash and fire as the wires came down.  He's the person who called 911.
"I don't know whether lightning struck the transformer, or the tree came down," Leahy said.  "Not totally sure.  There is debris back there."
Outside of Marion County, Duke Energy reported more than 23,000 outages, with more than 10,000 of those located in Johnson County. Bartholomew, Clay, Hamilton and Shelby counties each reported more than 1,500 outages.
By late afternoon, Duke Energy repair crews had brought the total number of outages down to about 18,000.
Severe weather is expected to strike again across the Hoosier State. Visit IndyWeatherAuthority.com for more.
You can also see photos from FOX59 viewers here.