This is an archived article and the information in the article may be outdated. Please look at the time stamp on the story to see when it was last updated.
Skies will be mostly clear tonight and low temperatures will fall into the low 20s.  We will start the work week with mostly sunny skies for Monday morning but that will come to a quick end.  Clouds will return by the afternoon as our next major system approaches from the west.  A rain/snow mix will be possible late Monday afternoon and evening as the warm front arrives to central Indiana. This initial shot of moisture will be minor in the overall impact of this system. Snowfall chances continue Monday night for our extreme northern counties.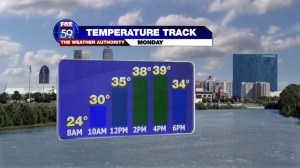 Much of our precipitation Monday night through Tuesday morning will be mix of freezing rain and snow showers.  A layer of warm air will be pushing into the mid levels of the atmosphere and this creates the freezing rain threat.  But cold air advection takes over Tuesday afternoon as the low center pushes through and that will start changing over this mix to all snow.  The RPM brings in snowfall chances for our viewing area after the noon hour and remaining likely throughout the rest of the afternoon and evening. But this could set the stage for slippery roads.  We could see some freezing rain, topped with fresh snow just in time for the evening commute.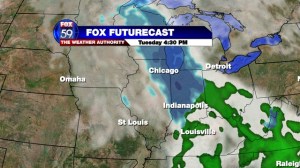 It is in this time frame that we will see accumulating snowfall across Central Indiana.  Snowfall totals will be most impressive in our northern locations and then taper off as you travel to the south.    I've included the RPM snowfall forecast below.  Don't take these numbers as fact yet!  We are still seeing huge fluctuations and disagreements between all of the weather models.  But what this image does show you is the placement of higher to lower snowfall numbers.  Be sure to check in to the latest newscast to see what's happening.  This system is different from previous snow makers this winter.  With prior storms, there was at least some agreement on storm path 48 hours out.  With this system, that isn't happening at all, so that's why snowfall numbers are still up for grabs.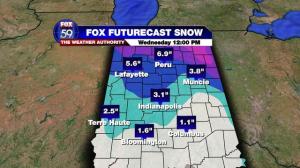 Snowfall chances will continue Tuesday night into Wednesday morning.  The snow we see Wednesday morning will be much lighter but roads will probably still be slick in many of our northern locations, especially on your non-primary roads. 
If the thought of snow makes you shiver in your seat, don't stop reading!  Temperatures will actually rebound later this week and we'll end up around 50°F by the weekend.