This is an archived article and the information in the article may be outdated. Please look at the time stamp on the story to see when it was last updated.
STORMY THURSDAY EVENING COMMUTE
Thunderstorms will spread east from Illinois through he late afternoon hours Thursday.  While we continue to monitor the radar for a few severe storms the primary threat will be some heavy rain for the evening commute.  A watch box from the National Weather Service could be in the cards but at this time any severe storms look to be isolated.  Thundery downpours are likely in the city from 4PM on with the height of the rain from 6pm through 9pm.  The showers and thunderstorm will settle east, southeast through midnight.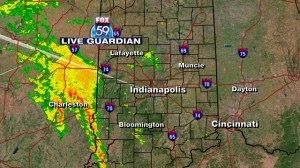 6 DAYS OF THE SAME STORM SYSTEMThe sluggish upper low that brought showers to Central Indiana last Friday was once again responsible for scattered afternoon showers and thunderstorms Wednesday.  The system is inching east and weakening, allowing for many more dry hours and warmer afternoon temperatures.  From 59° Sunday to a high of 78° Wednesday, the influence of this low is waning.  Thursday the storm will move on and a new one is expected to arrive during the day.
Scattered showers are possible by late morning  into early Thursday afternoon.  A break from rain later in the day may develop with scattered thunderstorms possible again by evening.  There are hints of a few strong storms and this will be monitored.  A severe storm watch box may be needed Thursday afternoon or evening.
RAIN CHANCES GOING UP AGAIN
Twenty to 30 percent coverage of rain showers Wednesday were a result of an upper low and afternoon heating.  Most of us did not receive the rainfall and those that did, had  fairly brief but heavy downpours.  Coverage on the rain will be on the rise as a new system pushes into the state starting Thursday.  Many dry hours are expected Thursday with rain "chances" or coverage increasing into the late afternoon.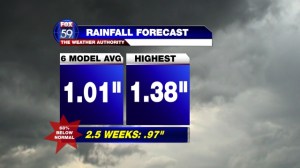 WET WEATHER TAKING A BREAK?
With rain in the forecast through Saturday evening, an estimate off 6 computer models places around 1″ of rain for the city.  Amounts will vary with thunderstorms in the equation but an interesting trend may be developing.  Longer range rainfall estimates are dropping to only .97″ over the next 16 days.  Hints of drier and warmer weather are in the cards.  Normal rainfall over the next 16 days is about 3″.
FROSTY MOTHER'S DAY MORNING
A strong cold front will sweep the state late Saturday, ending the rain chances but dragging down some late season chilly air.  Temperatures Sunday morning may dip into the middle to upper 30's with some patchy frost possible.  Sunshine Sunday will feel nice but afternoon temps may have a hard time cracking 60°.  This is rare for Mother's Day, only four times in the past 33 years has a Mother's Day failed to crack 60° and start in the 30's.  The last chilly Mother's Day was only three years ago on May 9,2010, with a low that morning of 37° and a high of 59°.
TEMPS SURGE NEXT WEEK
A blast of summer-like air will migrate into the central and upper Midwest early next week and then spread east.  The cold air will move out as strong southwest winds take hold and steer the warm air into Indiana.  Area temperatures could reach the middle 80's – warmest of the season – by mid-week.  Stay tuned!