This is an archived article and the information in the article may be outdated. Please look at the time stamp on the story to see when it was last updated.
THIS EVENING:
Clouds continue to increase tonight as moisture keeps trying to push further east back into our state.  The evening hours will be dry for any fireworks displays still ongoing today, so enjoy the fantastic weather yet again!  Temperatures will be in the mid to low 70s.  And dew points will still be low.
TONIGHT:
After midnight, you can't rule out some isolated showers in western Indiana. A wave of rain moving in from Illinois will have reached our state but with such little moisture in the atmosphere at this time, this is not a guaranteed chance for rain.  This will be isolated, light shower activity mainly west of Indianapolis.  These would be short-lived and would only produced trace amounts of rainfall.  Temperatures overnight drop to 62° for another comfortable night.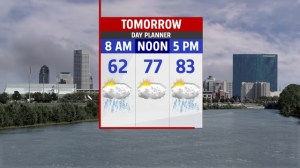 SUNDAY:
Spotty showers will be possible on Sunday as moisture continues to build in our state.  This will not be a wash out but cloud cover will be more pronounced than what we saw on Saturday.  Spotty showers are possible all day long with even an isolated rumble of thunder possible. Below is a look at Fox Futurecast throughout the day.  As you'll see, no one spot has a guarantee for rainfall, so don't cancel your outdoor plans!  Better chances for storms return on Monday and Tuesday to our state.  Humidity will rise considerably by Monday.
This slideshow requires JavaScript.