This is an archived article and the information in the article may be outdated. Please look at the time stamp on the story to see when it was last updated.
Rain is moving into the state this evening and showers are already covering our southern counties.  Rainfall will slowly move to the north tonight and this will bring rain back into the metro after midnight.  But temperatures will also be falling in the overnight hours and this will lead to a wintry mix in our northern locations.  It looks like the metro will just see rain, but just north of Indianapolis, the traditions begins.  As this line moves to the north, periods of rain, sleet and freezing rain will be possible from Lafayette to Anderson and to the north.  This could lead to some slick spots for early Monday morning.  But this wintry precipitation will not last long.  As the warm front continues to lift, temperatures will increase and this will all turn to rain by sunrise.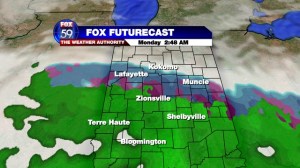 The heaviest rain will fall overnight and Monday morning.  A 4 model average comes in at .625″ of rainfall, so most of us should be near the .5″ mark if not a little bit higher.  Rainfall will become much more light and spotty for the afternoon hours on Monday.  Most of the isolated rain activity should end by 5 PM.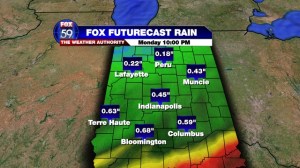 A much colder flow will take over as we go throughout the week and this is going to lead to unseasonably cold weather.  Temperatures should be in the mid to low 30s from Wednesday through Friday and this will leave us 20°F below normal!  It's hard to believe that astronomical spring begins on Wednesday with as cold as the temperatures are shaping up.  It looks like we'll stay below normal for the last half of March so don't put away your heavy coats just yet.