This is an archived article and the information in the article may be outdated. Please look at the time stamp on the story to see when it was last updated.
WEEKEND RAIN MOVING IN
Rain has held off as expected for most of the day but showers are now entering western Indiana at 8:30 PM.   It looks like most of the rain will target the northern third of state as the system splits in two.
Heavier rain moves in around 12 AM, Sunday, in the city with the severe storms staying well south of the state.   We could see a few storms form after sunset in eastern Illinois then race east – a clap or two of thunder isn't out of the question.

FORECAST RAINFALL
Rainfall amounts averaged off 6 models falling in line, and have been slashed by 50 percent from previous two days runs.  The average is now down to .44″ for city – range .13″ to .61″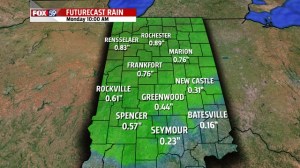 Heaviest rain again favors northwest of city.  Above a side-by-side comparison of the RPM model and ADONIS Microcast model rainfall.

DRY TIME SUNDAY
Winds shift northwest early Sunday and the storm system races east.  Sunday may open a little gloomy with a few lingering showers but conditions should improve by noon.  Rain showers are mostly done by early afternoon but a stray shower still cannot be ruled out.  once again, most of the weekend will end up with more dry hours than rainy – but most of the rain will fall overnight.