This is an archived article and the information in the article may be outdated. Please look at the time stamp on the story to see when it was last updated.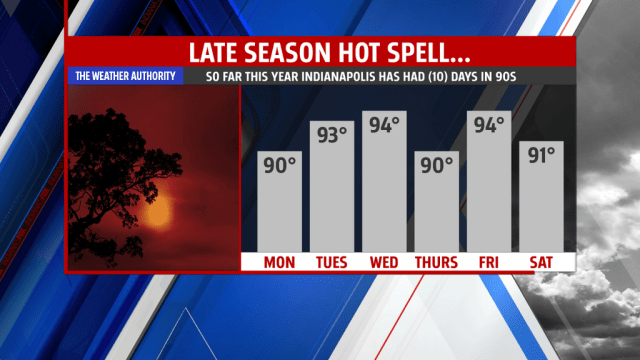 It was day 21 with no measurable rain here in Indianapolis on Friday.  Friday was also the fifth day in a row with temperatures in the 90s.  We will likely hit the 90s again today even with a chance for scattered rain through the day.
Even with the chance for rain both today and on Sunday, I wouldn't call the weekend a soggy one.  With dry conditions already in place along with the scattered nature of the storms we will likely see I don't expect to see too many puddles on the ground.  In fact many may not even realize that it rained in some areas overnight including on the city's north side.
The reason for the unsettled pattern for the weekend will be a series of fronts sliding through.  The second front will arrive on Labor Day morning and will cool temperatures to the mid to low 80s for Monday.  We may struggle to hit the 80s for a high on Tuesday!  For the rest of the work week expect dry conditions with highs in the mid-80s.  It should be relatively pleasant for most.