This is an archived article and the information in the article may be outdated. Please look at the time stamp on the story to see when it was last updated.
WARMEST IN  8 MONTHS: TASTE OF SUMMER
The long advertised warm air arrived on schedule Wednesday.  Area temps pushed 90° in a few locations and officially topped 85° in the city – only 3 degrees shy of the record for the date.  Temperatures have not been this warm since September 6th 2012's 87° high.  Other area high temperatures included 90° Columbus, 89° Muncie, 88° Shelbyville, Castleton and 87° at Zionsville.
The normal high temperature for the date is 72° but today felt like June 26th that is the date of the first average high of 85° in Indianapolis.
 STORM CHANCE ON THE RISE
A narrow and spotty line of showers and thunderstorms are likely to develop later Wednesday night.  A weak cold front will settle south during the overnight hours.  High resolution forecast models suggest storms may develop after 8PM and string west to east through central Indiana.  No severe storms are expected but a few strong wind gusts cannot be ruled out.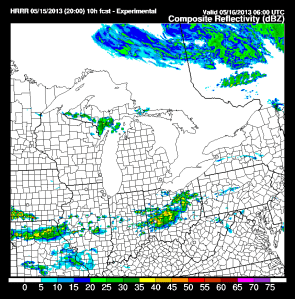 MORE WET WEATHER
The stretch of 5 days with no measurable rain will end.  Showers and thunderstorms will be possible as the front lingers across the state the next several days.  No all day rain is forecast – meaning many rain-free our dry hours are coming.  A break down of rain fall coverage over the next 6 days shows while rain is possible the best areal  coverage is coming Friday and again early next week.
RAINFALL MAY BE HEAVY
Forest rainfall for Indianapolis will once again be ion the rise and numbers off several machines looks impressive.  Average rain over next 7 days comes in at 2.66″ with 2 week rainfall very high.  4.51″ of rain is forecast off the U.S. GFS model a whopping 185% the normal for the period.