This is an archived article and the information in the article may be outdated. Please look at the time stamp on the story to see when it was last updated.
Central Indiana saw a huge jump in temperatures today after the warm front lifted to our north this morning.  Indianapolis officially hit 72°F as the afternoon high.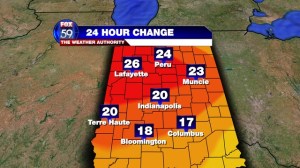 Skies remain mostly cloudy overnight and this will keep temperatures mild going into Monday morning.  Lows should only fall to the low 50s to start the day which is mild and comfortable for this time of year.  We should also start dry with chances for rain sneaking in later in the day.  Temperatures will also be warm again on Monday but not as warm as what we saw on Sunday.  Highs should reach the upper 60s.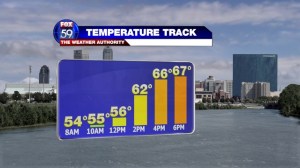 Let's talk about rainfall chances for Monday's forecast.  A cold front is headed our way and will start to produce some isolated showers after the noon hour, especially if you are in western Indiana or northwest Indiana. The front will stall out in this part of the state and keep in a chance for rain throughout the rest of Monday and into Tuesday.  But it doesn't look like the metro will see those good chances for rainfall.  If you live from Bloomington to Indianapolis to Muncie and to the east, the chance for rain is very low.  You can't rule out an isolated shower but the front and rain will be too far to the west to impact you.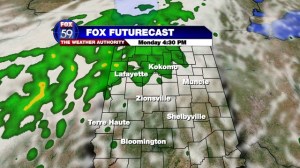 Fox Futurecast does a good job at depicting this event and who should and shouldn't see measurable rainfall.  As you can see, this is mainly a northwest event.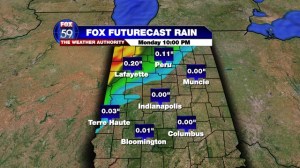 Rainfall chances will stick around for several days this week but there are only certain windows where rain looks likely.  Outside of those chances, we'll see some pretty nice weather with warm temperatures and passing clouds.  There's a scattered chance for showers and thunderstorms on both Tuesday and Wednesday with several hours of dry weather anticipated.  Both days will be partly cloudy but Wednesday will be the warmer day out of the two with a high fo 75°F. Showers and storms are likely on Thursday as the low pressure system finally arrives to Central Indiana.  This will bring in heavy rainfall, stronger storms and a huge cool down after the fact.  Temperatures fall back to only 50°F on Friday with mostly cloudy conditions and scattered showers.