This is an archived article and the information in the article may be outdated. Please look at the time stamp on the story to see when it was last updated.
Central Indiana got back into the 80s today and coupled with dew points in the mid 60s, it definitely felt sticky outside!   Heat indices reached the upper 80s this afternoon.  Temperatures remain mild overnight in the mid 60s once again.  Skies will be partly cloudy and we could see some isolated showers but it's only a 20% chance.  A weak cold front is passing overnight but this is just one of two over the next 24 hours.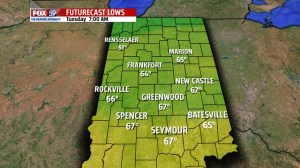 Tuesday will be another warm and humid afternoon in Central Indiana.  Temperatures should climb into the mid 80s. But after 2 PM, an isolated chance for showers and thunderstorms will return as another cold front passes through the area.  This is the final of our two cold fronts before cooler and drier air returns. 
Here's a look at that final front on Tuesday afternoon and the associated rainfall chance.  Most locations will pick up less than .10″ of rainfall and no severe weather is expected. 
It is going to feel completely different by Wednesday as slightly cooler air moves in along with lower dew points.  The high on Wednesday is expected around 80°F but don't expect it to feel overly humid or oppressive outside.  A ridge of Canadian high pressure is moving in and this is what is breaking the streak of humid days.  Thursday will be comfortable again with low humidity levels.  But before we know it, the summer like heat and humidity will return on Friday, just in time for the Summer Solstice (first day of astronomical Summer).