This is an archived article and the information in the article may be outdated. Please look at the time stamp on the story to see when it was last updated.
They call themselves M.O.M.s or Moms Of Multiples.
They are a special group of moms tasked with double or sometimes even triple (dare I write quadruple!) duty.
One thing I've learned about M.O.M.s is that they are mostly a "go with the flow" kind of bunch.
And – they have to be, right?!
DOUBLE the feedings, diapering and laundry. Raising multiples is HARD. 
Having a positive, relaxed attitude (sometimes sarcastic) is consistent advice I am hearing over and over again.
This picture posted on the Internet by a twin mom made me laugh!
Northside Twins & Multiples is a group that meets each month to share advice and offer each other support while these moms raise not one, but two babies at the same time.
"The biggest thing they get is the support from the other moms who just went through what they went through," explained Paula Butler with Northside Twins & Multiples.
The not-for-profit organization started in 1958 to help M.O.M.s.
M.O.M.s remind me it's best to take each day one step at a time with twins and never panic.
"It is so hard to feel like you are giving everyone time when they are asking for you attention. So just being able to talk to other people and they say yes – just do it one step at a time. The world will not spinning," said twin mom Laurinda Oliver.
Twin moms must prepare ahead, especially since we likely deliver before our due date. The average twin pregnancy is 35 weeks.
And, don't just focus on the nursery. Get the entire house ready for the duo. Put changing stations on each level of your home. Twins go through 150 diapers every week!
M.O.M.s tell me when it comes to feeding, breastfeeding both babies is possible but many twin moms also supplement with formula.
Since these little buddies shared a womb for nearly 9 months, I'm told to keep them together. Newborn twins can sleep side by side in the same crib for the first few months.
To learn more about Northside Twins & Multiples, CLICK HERE. The group is also hosting a fall sale on October 10 from 8 a.m. to Noon at Fishers United Methodist Church. Admission is free.
#Twinning is an incredibly amazing and scary experience, but I am anxiously waiting for these two little boys to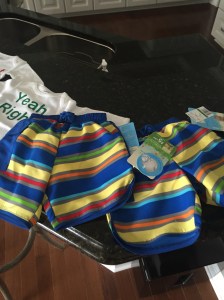 arrive. I've started getting adorable gifts from family and friends, like these swim shorts and Christmas onesies. I will TOTALLY dress them alike for a little while … it's just too cute!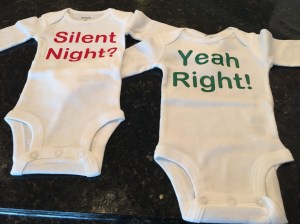 Be sure to share YOUR advice on raising multiples with me. I truly appreciate the support and insight!
XOXO/MWAH,
Nic
#Twinning at 22 weeks
Follow my journey on social media, using the hashtag #PencePregnancy
You can also follow me on my social media accounts: