This is an archived article and the information in the article may be outdated. Please look at the time stamp on the story to see when it was last updated.
FISHERS, Ind. (Feb. 3, 2016) – Police seized more than 500 pounds of marijuana Tuesday from a semi parked in a Wal-Mart parking lot. It marked the biggest drug bust in history for the city of Fishers.
The drugs were mixed with several pallets of coffee creamer intended for delivery to Nestlé.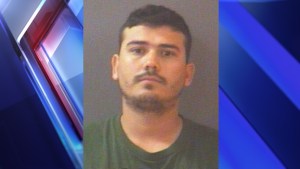 "The bust in Fishers is phenomenal. That is an awesome bust. 500 plus pounds of pot at a street value of $1,000 a pound. That's half a million dollars of narcotics they took off the street," said an undercover Indiana State Police officer who asked to be called Sgt. Leonard.
Sgt. Leonard said the arrest of the semi driver in Fishers, identified as Isaac Bojorquez, is success story, but it's also a small part of a much larger fight.
"These are guys that are out there hauling dope day in and day out. It's a daily occurrence all across the nation," said Leonard.
Last year, state police in central Indiana alone seized 82 pounds of heroin, 105 pounds of meth, 136 pounds of cocaine, more than 19 hundred pounds of marijuana as well as $7.7 million in cash.
"In the last 10 years, Indianapolis has become a hub for narcotics," said Sgt. Leonard.
Just like the semi busted in Fishers which came from California, troopers always keep a close eye on suspicious semi's driven from southern states that border Mexico.
"The majority of narcotics come from Mexico. That's a proven fact," said Sgt. Leonard. "It's a daily challenge just like DUI."
Right now Indiana State Police have a narcotics patrol of nearly a dozen officers in central Indiana, but it's a fight that will continue to expand in the years to come.
"The governor has put resources into the State Police narcotics section. We're beefing it up," said Sgt. Leonard.
State police say it's also important they have the public's help. If drivers see suspicious activity, it's important to report it.
The more eyes officers have the highways, the more likely the crooks are to be caught.
According to court records, the suspect in Fishers admitted he contacted people in Mexico to make some quick cash and planned to make 10 thousand dollars when he returned to California.
The suspect said his co-driver did not know about the drugs.