This is an archived article and the information in the article may be outdated. Please look at the time stamp on the story to see when it was last updated.
JOHNSON COUNTY - Johnson County residents are waiting to see what Tuesday's evening storms will bring after an already tough day across the area.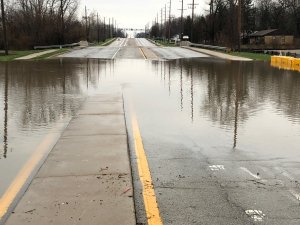 Problems started early as heavy rainfall greeted morning commuters. Police were forced to close down a portion of County Line Road as high water flowed across travel lanes. The closure caused traffic backups that slowed northbound and southbound commuters trying to use County Line to get across town. Several vehicles stalled out along County Line, prompting drivers to be rescued by emergency responders.
Chris Campbell, who works at Floors to Go at County Line and Madison says he saw several drivers who had to be helped out of their vehicles after getting stuck in flood water.
"I think the main problem was that traffic was being diverted from I-65 because they were having issues there, and they didn't realize that we were having this issue here," he said.
I-65 ramps at Main Street and County Line Road were blocked to traffic for much of Tuesday after flood water caused problems on the interstate. INDOT plow trucks could be seen pushing water off the roadway Tuesday morning.
Rain water quickly filled storm drains and flooded parts of Greenwood's Barton Lakes subdivision. Som Manepalli got his BMW stuck in the water in the morning and it was still sitting there Tuesday afternoon. Despite living just 30 yards away, he was powerless to get his car out of the flood water.
"Feels really sad, because that's a new one," he said. "Feels sad but, as you know, I can't help it."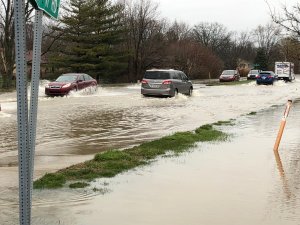 Flash flooding prompted Johnson County authorities to close at least 30 roads at one point. Making matters worse, a lightning strike knocked out the county's 911 emergency communications system for about three hours. Responders were able to use a mobile command unit to cover the gap until system repairs were made.
Several creeks ran over their banks, causing flood problems on busy roadways. One driver had to be rescued after running into flood water on Smith Valley Road near Stone Road. White River Township Fire Chief Jeremy Pell was urging everyone to avoid driving into flood water. Especially moving water.
"In the worst case scenarios, the moving water across the road actually forces the car off the road and puts you in even deeper water," Pell said. "And that's what we don't want to see."
North of Smith Valley Road, Peterman Road was another problem spot for drivers as Pleasant Run Creek overflowed its banks and turned the road into a small river. Several drivers could be seen slowly moving through the water, taking the risk to make it through.
Larry Shmulz, who once served in the Coast Guard, is well acquainted with the power of moving water. He lives just off Peterman Road and watched car after car run into the flood water.
"People need to be more aware of how strong water currents are," he said. "And what are they going to do when they get swept into the deeper water into the creek?"
Shmulz's back yard was under water from the overflowed Pleasant Run Creek. He and his neighbors were not looking forward to another round of storms Tuesday night.
"I hope it doesn't get too much higher," he said. "It's going to cause a lot of havoc with some of the houses around here that are sitting lower."
The Johnson County Emergency Management Agency was making materials for sandbags available at the county highway department headquarters in Franklin throughout Tuesday.