This is an archived article and the information in the article may be outdated. Please look at the time stamp on the story to see when it was last updated.
SOUTH BEND, Ind. (June 10, 2015)– Shawn Looper is an Indianapolis Metropolitan Police Department (IMPD) homicide detective and a former child abuse investigator accustomed to seeing the worst a man or woman can do to someone in Indianapolis.
On the night of November 10, 2012, he was a dad at home, dressed in shorts and a t-shirt, when an explosion rocked his neighborhood. He slipped on shoes, grabbed his police firearm and police radio, jumped in his unmarked police car and drove two blocks away to the 8300 block of Fieldfare Way.
LIVE BLOG: Go inside the courtroom with FOX59.
And there he spotted debris and fire and an injured woman and immediately started calling for back up to the largest homicide scene in Indianapolis history.
"We have an explosion of a house on Fieldfare Way," Looper reported as jurors in the trial of lead co-conspirator listened to an IMPD dispatch tape. "It is totally destoryed. Its going to be a major incident, Control."
"2247" was Looper's call sign that night. "Control" is how officers refer to the dispatchers taking their radio calls.
"It's Richmond Hill subdivision," Looper shouted into the radio. "We have at least ten homes and severely injured [victims]."
Looper called for an ambulance to treat an injured woman at the corner of Fieldfare Way and Towhees Drive as the first IFD firefighters arrived.
"Engine 63 is on the scene with me now. I still smell gas," he said.
Investigators later determined that an excessive and lethal amount of natural gas had been introduced into the home of Monserrate Shirley at 8349 Fieldfare Way and ignited, causing a blast so large many residents thought a plane had crashed into their neighborhood.
PHOTO GALLERY: Richmond Hill explosion.
"We have another house on fire," reported Looper as he spotted 8355 Fieldfare Way, next door to Ground Zero.
It was the home of Jennifer and Dion Longworth and was partially collapsed and on fire.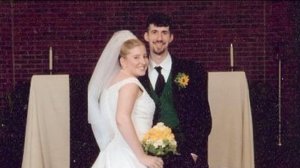 "We got a man trapped in the back here. He's screaming. We need fire apparatus. We've got a fireman trying to go in now."
Seconds later Looper's call for help resonated with added urgency.
"I need a hose to the rear or I'm gonna lose a fireman. We have a possible fireman trapped."
"Looper where are you?" another policeman asked on the radio. 
"I'm behind the last burning house to the south," Looper answered. "We need at least one more fireman back here. We're trying to get him out."
Deputy Prosecutor Denise Robinson then directed her assistant counsel to stop playing the dispatch tape for jurors as John Longworth, his glasses removed, listened from the second row of the audience gallery about the heroic attempt that was made to save his son's life.
The courtroom was silent.
"What were you seeing?" Robinson asked.
Looper took a few moments to gather himself before answering.
"When I was in the backyard a firearm had come around to the southeast corner of the house and was on his knees. He was trying to pull at the corner. I couldn't see what he was pulling and he stopped and saw me and was waving me over to help him."
Looper choked up as he testified that due to the intensity of heat of the fire, he could not help the firefighter rescue Dion Longworth.
The detective's testimony was the most dramatic of all the neighbors heard on the third day of the Mark Leonard murder trial.
Leonard spends his days sitting impassively in a basement courtroom at the St. Joseph County courthouse, conversing little with his attorneys as Marion County prosecutors elicit story after story from Richmond Hill residents of the nightmare their neighbor visited upon their community on a late Saturday night in the fall two-and-a-half years ago in pursuit of an ill-gotten insurance payoff.
In an opening statement, Leonard's own lawyer admitted her client was involved in a "stupid and selfish" insurance fraud but never intended to kill two neighbors when he is accused of plotting a natural gas explosion to burn down Shirley's house.
Leonard faces 53 charges, including arson, conspiracy, insurance fraud and, finally and foremost, murder for the deaths of Dion and Jennifer Longworth.
Prosecutors are bringing forth, one-by-one, an estimated 70 south side residents who will explain how they were awakened late on a Saturday night by an explosion that rocked their neighborhood, damaged their homes and left them stunned staring at flames where houses once stood.
Walter Colbert said he served in military in Afghanistan and said the blast reminded him of the day insurgents tried to blow up his base with a car bomb.
Craig Fall said he saw his wife and stepdaughter screaming on the couch after the explosion.
Theresa Carmichael said she panicked at the thought of her new puppy alone inside her heavily damaged home that cost $78,000 to repair.
Janet Lindgren said her chimney was "physically twisted" and Nina LaRouche said it felt like her house "lifted off the foundation."
Matt Lennon said the blast nearly threw him out of bed and he joined another neighbor in turning off residential gas lines to avoid a second explosion.
Nick Hunter testified that he "thought a plan crashed into the neighborhood."
With each witness' story there are accompanying photographs, showing the damages to their homes.
When the pictures are passed to the defense table, Leonard sits with his left forefinger extended along the side of his face, looking at what the State calls evidence of his treachery.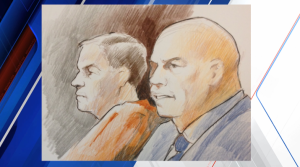 Through it all, Leonard shows no emotion. His attorneys rarely ask questions of the neighbors who finally face the man who overturned their lives two-and-a-half years before.
Cindy Hind clutched a tissue as she told her story to jurors.
Slowly a map of the neighborhood is filled in with yellow highlighter as witnesses color in their plot to demonstrate to the jury how extensive the damage was.
Laura Littlepage, an IUPUI professor, testified that the battery on her mother-in-law's wheelchair died as she joined her husband evacuating the house, leaving them to push the wheelchair over fire hoses down Sherman Drive in the dark south to County Line Road in their pajamas.
"It was a long night," she told jurors.
Leonard was at the Hollywood Casino in Lawrenceburg that night, with Shirley, awaiting word that his plot to burn down her house had succeeded and he could start mentally spending the $300,000 insurance settlement he expected to receive.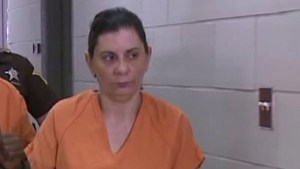 Leading up to the explosion, Leonard told a friend he was online looking for the Ferrari he intended to buy.
Now, dressed in a black suit and handcuffs removed so the jury won't see him as a jailed prisoner, Mark Leonard sits in Judge John Marnocha's basement courtroom, facing life in prison without parole and listening to tales of the lives altererd by his own admitted actions.