This is an archived article and the information in the article may be outdated. Please look at the time stamp on the story to see when it was last updated.
INDIANAPOLIS (May 20, 2015) – Injured IndyCar driver James Hinchcliffe has been moved out of the intensive care unit at IU Health Methodist Hospital and continues to improve following surgery, IMS officials say.
He's expected to make a full recovery and won't need more surgery.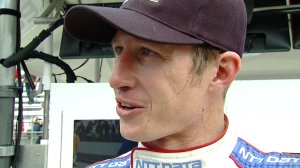 Ryan Briscoe is expected to replace Hinchcliffe during the 99th running of the Indianapolis 500. The final details are still being worked out, according to Indy Sports Central's Chris Hagan. An official announcement and news conference will take place Thursday.
Hinchcliffe was hurt after a fiery crash Monday during Indy 500 practice. He went to IU Health Methodist Hospital with serious injuries to his pelvic area and upper left thigh. According to a report from RACER.com, one of the suspension wishbones of the car went through Hinchcliffe's right leg and into his left leg, pinning the Schmidt Peterson driver until safety crews arrived. He reportedly suffered significant blood loss and was ruled out of competition for the "foreseeable future."
In a statement released Tuesday, Hinchcliffe said he appreciated the support of IndyCar fans and drivers.
The incident involving Hinchcliffe was the latest major crash at the Indianapolis Motor Speedway this month. Last week, Helio Castroneves' car went airborne, as did Josef Newgarden's. Ed Carpenter's car went airborne during Sunday's practice session on Pole Day. Hinchcliffe's crash appeared to be the result of mechanical failure while the other three were attributed to the new aero kit.