This is an archived article and the information in the article may be outdated. Please look at the time stamp on the story to see when it was last updated.
JOHNSON COUNTY – A second suspect is under arrest in the undetermined death of a Greenwood boy that may be due to the designer drug NBOME.
Kyle Hazzard (above), 24, surrendered at the Johnson County Jail on a charge of dealing in a synthetic drug, a class "D" felony, two hours after Fox59 News first broke news of his pending arrest.
Hazzard and Zachary Catron, 24, have been jailed for their suspected roles in the death of Samuel Motsay who was found unresponsive in a home in the Eagle Trace community of White River Township Sunday.
Sheriff Doug Cox told Fox59 News that an autopsy may determine if the 16-year-old Center Grove High School sophomore died of an overdose of the drug NBOME.
Veteran narcotics detectives told Fox 59 News that they only recently became aware of the drug which is similar to LSD. It is thought to originate in powder form in China, be available over the Internet and is diluted with 100% pure alcohol onto blotter paper for ingestion, though the drug can be inhaled, swallowed, smoked or injected.
Cox said additional doses of the drug discovered at the home on Old Eagle Way where the teenager died were examined by chemists at the Indiana State Police Laboratory and confirmed the presence of NBOME.
Those samples matched drugs confiscated from Catron's home in the 3100 block of South Tacoma Avenue in Indianapolis during a SWAT team raid Tuesday night.
In addition to NBOME, narcotics detectives seized methamphetamine, cocaine, heroin and several guns.
Catron received a 20-year sentence for cocaine and methamphetamine charges in Marion County Drug Court last October, though 18 years of the sentence was suspended. At the time of his arrest, Catron was not only out on bond for a recent unrelated Johnson County drug case, he was also wearing an ankle bracelet monitoring device.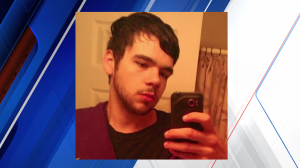 Cox said statements from two of Motsay's friends who also ingested the drug and evidence recovered from the teen's cell phone led detectives to Hazzard and Jordon Adamowicz, 19, who admitted their roles as go-betweens in the drug transaction between Motsay and Catron.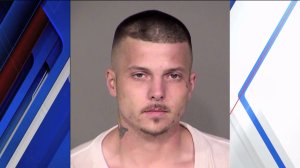 Adamowicz, who was named as a suspect in a vandalism report in the Brockton Manor community in the summer of 2013, is still being sought by deputies.
Catron has an extensive criminal history including arrests for firearms and drugs dating back to 2007.
Catron's wife Amy, who was also arrested and later released, was present at the Tacoma Avenue house Thursday afternoon.
A man whom neighbors identified as Catron's father seemed shocked and angry when advised of his son's suspected involvement in Motsay's death.
A neighbor, Kim Gentry, told Fox 59 News that she was aware of drug dealing at the home for several months.
Catron's house is a five minute walk from a home in the 3200 block fo South Parker Avenue where four people were murdered in a drug robbery in February.
Gentry said that the suspects in that case and Andrew Sizemore, a suspected drug dealer who died in a shootout with Metro police officers in March, were likely acquaintences with Catron.
All the suspects are southsiders in their mid-twenties and many attended IPS together.
Motsay's death marks the third time this spring that NBOME has been detected at the site of an undetermined drug-suspected death.
Previous Story: