This is an archived article and the information in the article may be outdated. Please look at the time stamp on the story to see when it was last updated.
FISHERS, IND. — One person was transported to the hospital after a semi caught fire on Interstate 69 in Fishers, Ind. Wednesday morning.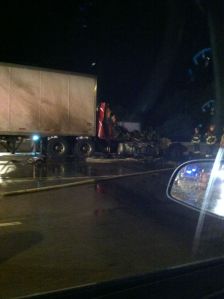 Emergency crews responded to the northbound lanes of I-69 near 116th Street around 4 a.m.
According to officials with the Indiana Department of Transportation, the semi crashed in a construction closure zone before the fire erupted.
The driver was transported to St. Vincent Hospital.  The condition of the patient is unknown at this time.
Lanes were closed for several hours as crews cleaned the roadways.