This is an archived article and the information in the article may be outdated. Please look at the time stamp on the story to see when it was last updated.
The upper level flow is going to be from the northwest for the next few days and this is going to set us up for several clipper systems.  The first of those clipper systems will be overnight.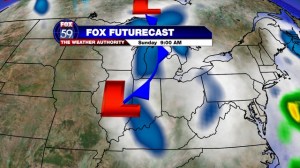 The clipper will mainly impact our southwest counties on Sunday morning.  At the most, you are looking at a dusting to maybe a half-inch of snow out of this.  The low levels of the atmosphere have turned much more dry this afternoon and that will make it difficult for this moisture to fully move in Sunday morning.  We'll be watching radar trends in the morning, so check in with Ron Smiley starting at 6 AM for the latest on this event.
Flurries aren't out of the question elsewhere on Sunday.  But any accumulating snow should be with that morning clipper in our southwestern counties.  Temperatures will remain below normal as more cold air moves in behind the clipper.  Highs should only hit 26°F.
Get ready for clipper #2 on Monday.  Clippers are typically "minor" weather events as they don't have as much moisture to pull from and they move through quickly.  And the weather models have a very hard time determining the amount of snow with these systems.  With one, you can get 3″ while the next brings a dusting.  As of tonight, the weather models are bringing in .2″ to 3″ of snowfall, so this just shows you how poorly the models handle clippers.   For now, we will go with light snow on Monday, especially in our northern zones where 1-3″ of snow is possible.  Lower snowfall amounts will be south of I-70.   And as you can see in the image below, the main focus for snow is really setting up in our northern counties and this could impact the morning drive and continue through the early afternoon hours for these counties.