This is an archived article and the information in the article may be outdated. Please look at the time stamp on the story to see when it was last updated.
After a cloudy day with off and on showers, the amount of energy in the atmosphere isn't looking too impressive. Basically, the clouds limited our ability to heat up and that limits our energy.  Because of that, the chance for severe weather has dropped off quite a bit for this evening.  As you can see in the picture below, the "SLIGHT RISK" area now only includes the extreme southeastern counties in the state.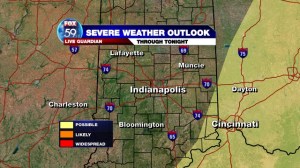 Scattered showers and isolated storms will continue to pass through Central Indiana this afternoon and these should stay below severe criteria.  We continue to monitor the storms regardless. There will be another line of showers and storms later on this evening associated with the cold front.  This cold front could look like a skinny line of storms on radar but it will take a lot to get this organized.  And again, with little energy to play with, the chance of severe storms is also low with this round of precipitation.  Most of this activity will have passed through the state by 11 PM. 
This afternoon and evening activity still has the potential to bring in more heavy rainfall to Central Indiana.  Below is a rainfall possibility map that basically includes any rain we'll see this evening and isolated showers on Sunday.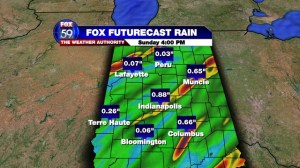 The areas we continue watch closely for flooding include our western counties.  This is where a Flash Flood Watch is still in place through Sunday morning.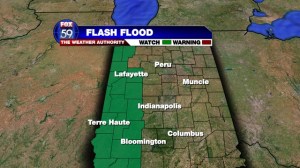 Sunday should be partly cloudy and cool in Central Indiana.  Temperatures will top out around 73°F.  There will be an isolated chance for showers on Sunday afternoon due to wrap around moisture with the departing low, but it will be short-lived and minimal precipitation.
High pressure returns for the start of the work week and this means plenty of sunshine and a few more dry days across Central Indiana.