This is an archived article and the information in the article may be outdated. Please look at the time stamp on the story to see when it was last updated.
SEVERE STORMS DEVELOP
The heat and humidity that arrived in central Indiana Wednesday afternoon (warmest here since last September) will provide the fuel for a complex of severe storms after tonight.  As of 4:30 p.m., the atmosphere is capped, meaning storms cannot develop.  The vertical build of these storms are held in check "capped" by warm air in upper level layers.  The breeding ground of the severe storms tonight has begun in Iowa and Illinois.  The first watch box of the day has been issued there.
HIGH RISK
The SPC has also issued a PDS severe watch over north Indiana until 2 a.m. issued by the forecasters at the storm prediction center is the first of the year and outlines much of northern Illinois and Indiana.  The is a high likelihood of severe storms here later tonight.
Initially the environment favors super cell thunderstorms growing to possibly produce tornadoes.  Later tonight, more storms will develop into a cluster of storms that will evolve during the early evening hours.  This complex of storms will be the main severe weather maker later tonight.  A large bowing line of storms is expected to sweep southeast across Illinois, Indiana and into Ohio by early morning Thursday.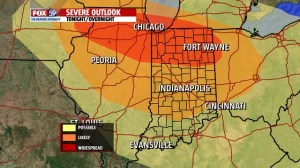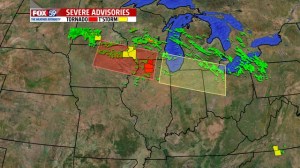 CAPE – A MEASURE OF POTENTIAL THUNDERSTORM ENERGY
Meteorologists will use CAPE (Convective Available Potential Energy) to measure how explosive thunderstorms could be.  Often 1000 to 1500 is good enough for an entry-level severe storm but today is rare air.  CAPE values are reaching 4000 across Indiana – that means we are sitting on a powder keg of energy.  The peak of this energy here comes from 6 p.m. to 2 a..  When the storms dive into the city, they are likely to remain quite strong.  The combination of a low pressure at the surface and in the jet stream along with an approaching cold front are all the ingredients needed to ignite the storms.
The storm complex most likely brings widespread wind damage and not an outbreak of tornadoes here.  This wall of wind is forecast to reach the city around 12 a.m.  The RPM model shows the forecast location later tonight.
Some forecast weather models are also estimating widespread power outages from Iowa through Ohio.  Winds in excess of 70 mph are likely to topple trees and power lines along the path of the storm complex.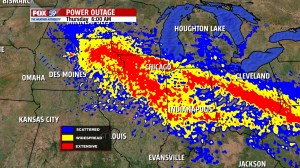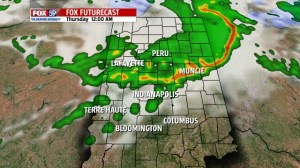 COLD FRONT
Passing the city around sunrise a cold front will shift winds and bring an end to most of the rain chance for Thursday.  Humidity will drop sharply through the day and set the stage for a very comfortable end to the work week.