This is an archived article and the information in the article may be outdated. Please look at the time stamp on the story to see when it was last updated.
It proved to be a hot and humid day in central Indiana.  We saw several locations hit the 90 degree mark and feels like temperatures ranged from 93 to 99°F. The radar will be quiet through the bulk of our state for the rest of the day, but the same cannot be said in very northern Indiana.  This is an area the Storm Prediction Center continues to keep an eye on for storm development.  As you can see to the left, the northern fourth of the state is included in a "slight risk" of severe weather tonight.
TONIGHT:
The overnight  hours will be warm and muggy again in central Indiana.  Temperatures will still be near the 80 degree mark at 10 PM and we'll only drop into the low 70s for Wednesday morning.   Winds will be coming in from the south overnight at 5 to 15 mph.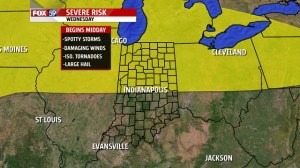 WEDNESDAY:
Wednesday starts dry, warm and muggy across central Indiana. But the entire day will not be dry as scattered showers and thunderstorms should develop by the late afternoon and into the evening hours. The SPC includes us in a slight risk of severe weather from the city and points to the north on Wednesday.
This will also be another oppressively hot day for our state.  Temperatures should rise to the 90 degree mark. Once you add in the humidity, temperatures will feel more like the mid to upper 90s.  This will mark the second day in a row with conditions like this.  Don't forget to take a break from the heat and give your body a break during the peak heating hours of the day.  Also, make sure you drink plenty of water.
EXTENDED:
Storm chances will continue through Thursday and again Friday afternoon.  The 90 degree heat will break after tomorrow, but the humidity will stick around.