This is an archived article and the information in the article may be outdated. Please look at the time stamp on the story to see when it was last updated.
It's going to be another hot and humid day in Central Indiana with feels like temperatures well into the mid 90s.  But with all this "energy" in place today, we have to remain on alert for severe weather.  The Storm Prediction Center has expanded the "Slight Risk" of severe weather to include the bulk of our viewing area.  You can see that slight risk area pictured at the top of this post.  This outlook would include Tuesday afternoon through Wednesday morning.   The primary concerns are large hail and damaging winds gusts.  But winds seem to be the primary concern with very steep mid-level lapse rates today.  Pictured below is an image from the Storm Prediction Center.  It shows the area of heightened wind damage potential today.  At 30% probability, we have to be on alert today/tonight.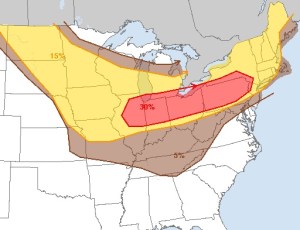 It looks like the best window for storm activity arrives later this afternoon and throughout the evening hours.  Storms will develop over in Illinois and then travel east toward our state likely in a bowing structure.  If you were watching the radar last night, we saw a similar feature in northern Indiana.  And looking at the weather models, north of I-70 has the better chance to see these severe storms this evening.  But locations south of I-70 still need to be on alert and watching the radar too.
I know many of you are looking for an exact time to expect this on your front door.  At this point, the latest afternoon model runs are showing a bowing line entering the state around 6-7 PM and reaching the Indianapolis area between 7-8 PM.   These times can EASILY change because it all depends on when the storms actually ignite.  For this reason, we are watching the radar closely again today and will be making updates to this post throughout the day.
For the latest, make sure you tune in starting at 4 PM today.