This is an archived article and the information in the article may be outdated. Please look at the time stamp on the story to see when it was last updated.
Clouds continue to increase from northwest to the southeast this afternoon.  We are already starting to see some spotty showers in the northwest corner of the state and this will continue to impact locations like Lafayette, Logansport and Kokomo in the hours ahead.  For the rest of us this afternoon, clouds will continue to increase along with the amount of moisture in the air as well.
The models have come in much stronger with rainfall amounts and faster timing.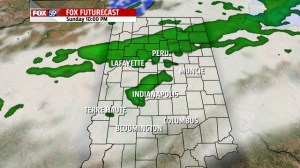 The only exception seems to be the RPM in house weather model that shows the line to our north prior to midnight and only passing through as isolated showers and little to no rainfall for Indianapolis and locations to the south.  But when looking at all the other weather models, rain showers look like a better shot tonight with .25" being the average for most of Central Indiana.  We'll also see some isolated storms in the overnight hours but nothing severe.
Let's talk about timing.  For those in the northern part of the state, the rain chance actually begins this evening and continues through about 2 AM.  For those of you closer to I-70, the rain chance begins closer to midnight and continues prior to sunrise.  Finally, for those of you in the southern part of the viewing area, you'll see a spotty rain chance after 3 AM to 8 AM.  But it does look like the Monday morning drive should be dry for the majority of the viewing area pending the latest models are correct regarding timing.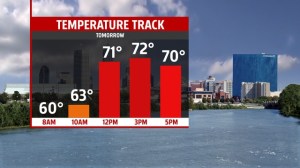 Cooler air moves in again for Monday and clouds will decrease in the afternoon hours.  Temperatures will end up only in the low 70s for the majority of the state.  Temperatures will start to bounce back on Tuesday as a ridge of high pressure helps clear out the clouds for the day.  But moisture and heat will really start to make a return by mid week.  We are setting up for a multi-day stretch of rainfall and storm chances, something desperately in Central Indiana.  Rain starts showing up in the weather models as early as Wednesday evening and continuing through Saturday morning.  This isn't to say that it will rain that entire time but we'll see spotty showers and storms throughout this period in the coming workweek.