This is an archived article and the information in the article may be outdated. Please look at the time stamp on the story to see when it was last updated.
INDIANAPOLIS, Ind. (April 23, 2014)— An Indianapolis police officer was laid to rest Wednesday.
Officer Kim Carmack was buried in the Heroes of Public Safety section of Crown Hill Cemetery, nearly a week after she was killed by her ex-husband, a fellow IMPD officer, in a murder-suicide. Police said she was shot multiple times by IMPD Sgt. Ryan Anders, before he turned the gun on himself.
Those who knew Carmack well, and even those who had brief encounters with her, say she was an officer who cared about her community.
"If a friend's heart was broken, so was Kim's," said friend Robin Alexander, one of Carmack's first control operators at IPD in 1995. Alexander told mourners at SS. Peter and Paul Cathedral that her friend had a weakness for motorists with car trouble and could never pass on by, even off duty, "because that was Kim."
Newly released IMPD personnel records indicate Carmack received a unit citation for her work with narcotics detectives in 1999 and was nominated for honors during a department employee recognition banquet in 2002.
"You know, you get a good officer that passes, its rough. It's kind of a sad day for everybody," said Haughville area business owner Grover Benge as he watched Carmack's funeral procession pass by IMPD's Southwest District headquarters.
"My drivers mentioned that they got pulled over by her once," he said. "She was very friendly and they said they were on their way to work and she said, 'Well, get to work.'"
Westside neighbor Laura Harr knew Officer Carmack as "Miss Kim."
"It just tore me up because I met her a few times and she's just like a lot of these people out here. You would just never think of that and it just touched everybody's heart out here."
After the graveside services at Crown Hill, IMPD Chief Rick Hite said Carmack's work will live on through her son Dustin, also a west side police officer.
"The legacy lives on for her son. I'm sure her work will continue on through him and whenever we speak her name it will be in fondness and understanding and he, in fact, is part of her mission and legacy, and we'll honor that and make sure he understands that."
Hite and Marion County Prosecutor Terry Curry said they are both reviewing the steps taken by their respective staffs to counsel or investigate the dissolution of the Carmack/Anders marriage and consider where special consideration needs to be given to police officer couples when their relationships dissolve in the future.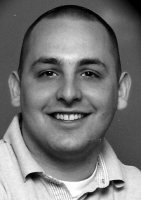 Anders was facing internal IMPD charges and potential criminal charges as well as a protective order hearing at the time of last week's tragedy.
His personnel records indicate the former Marion County Sheriff's deputy joined IMPD at the time of the merger in 2007, was nominated for the Medal of Bravery in 2009 and was promoted to sergeant in 2011. Anders had one minor disciplinary notice for a vehicle accident.
Anders' funeral is Thursday.