This is an archived article and the information in the article may be outdated. Please look at the time stamp on the story to see when it was last updated.
INDIANAPOLIS, Ind.-- Theothus Carter, Jr. was thrilled in the summer of 2016 when he learned his namesake father would be starring in a movie shot inside the Pendleton Correctional Facility called "O.G."
"He said, 'Momma, I can't wait until the movie come out. My daddy gonna get out real soon. He gonna do this. My daddy gonna get out. We gonna be together.' I said, 'Yeah, we praying so he can get this movie and everything gonna be okay and he can come on home,'" said Talishia Collier.
Theothus Carter Sr. has a potential parole date of May 23, 2047, as he serves a 65-year sentence for attempted murder and attempted robbery with serious bodily injury.
Family photographs taken inside the prison on visitation day show a pair of smiling parents with a teenager striking a sullen pose which Talishia said belied her son's love for his father.
Theothus Jr. would never live to see the premiere of the movie in which his dad starred as he was gunned down at an east side convenience store on August 13, 2016, in a hit that his mother thinks was premeditated to cover someone else's involvement in a neighborhood burglary.
"As of now I think it was a set up," said Collier. "Somebody broke into somebody's house, blamed it on my son, they traded their life for my son."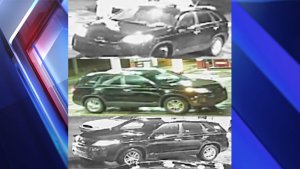 Collier said she always had suspicions about the family friend who drove her son on a spur-of-the-moment trip to the store in the 4100 block of East 16th Street on that rainy summer evening.  She said received a phone call from an inmate at another Indiana prison who claimed to know details of her son's killing after the Carter story was first reported on "Indy Unsolved" in the spring of 2017.
"On the videos there's a white Mustang with red stripes," said Collier after IMPD detectives acquired surveillance video from the store that night. "When my son got shot, she was right there on the video parked right there and when she heard the first gunshot she jumped in her car.
"I know she seen what the man looked like."
The killer's vehicle, a black 2015 Kia Sorrento SUV, sped away.
It was up to Collier to break the news to her son's father inside the prison.
"He went off. He didn't go off on me. He was just upset that his son passed," she said. "He was upset. He take death different than I do. He know how to accept it more than me but it hurt him to the core."
Collier said Theothus Sr. channeled his pain into his performance with lead actor Jeffrey Wright in the movie that premiered at the Tribeca Film Festival in New York City this year.
"He was excited because he said he didn't think he knew how to act. He said, 'Well, we act every day. This is nothing new to me,'" said Collier. "I asked, 'How did you cry and like that?', and he said, 'All I did was think about you and my son. When I think about y'all the tears just come. It just come natural.'"
The tears have come often over the years for Talishia Collier and her family.
Carter's own father was murdered in front of him as a child.
Collier's father served time for murder. Her friend, Tiara Turner, was shot to death along with three other people in the 3100 block of North Harding Street in 2015, about a week after a cousin, Terry Proctor, was murdered. Another cousin, Antonio Bertram, was killed during a dispute at a tax office in Lawrence this past spring.
"There were my first cousins," said Collier. "There's no more boys left. They're gone."
"O.G." has yet to be distributed though Collier attended the NYC premiere.
"I cried. When I seen Theothus Senior, I just started crying because it was like I seen my son again and like, 'Oh, Lord,' I had to put my head down."
Wright, who has starred in "Westworld" and Boardwalk Empire," plays "Louis," an older offender, an "Original Gangster," on the verge of his prison release who takes Carter's character, a newbie named "Beecher," under his wing.
Collier, who recalled taking her son to visit his father every weekend in prison while growing up, said the movie will be a stark awakening for anyone who has never been inside the walls of a penitentiary.
"It'll tell 'em don't go, don't do nothing bad, nothing to send yourself there because that's an ugly place," she said. "That's disgusting. That's nowhere for no kid, no adult, nobody to go."
Nobody except maybe the people who conspired to kill Collier's son.
If you know anything about the murder of Theothus Carter Jr. at the Conoco convenience store on East 16th Street two years ago, or were a witness in the neighborhood that night, call Crimestoppers at 317-262-TIPS. Information leading to an arrest could be worth a $1,000 reward.
"It's not necessarily that you're snitchin' on the next person," said Collier. "No. You want answers to what happened to your child or who done this."