This is an archived article and the information in the article may be outdated. Please look at the time stamp on the story to see when it was last updated.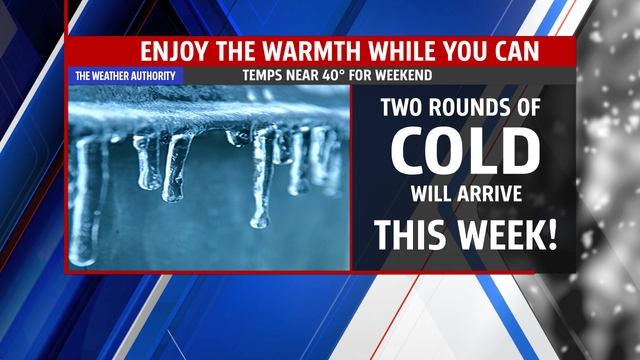 Weather Headlines:
-Dense Fog Advisory through 11am
-Warm start (40s), with temperatures slowly falling through day
-Cold isn't done with us yet
-More snow potentially on way
A busy couple of weather days as a series of fronts are expected to sweep through.  These fronts will bring everything from rain to snow and hot and cold weather throughout the week.  In other words the wild weather we have seen over the past two weeks looks to continue for at least another week.
This weekend will actually be the calmest of the weather over the next week.  Highs through Monday will be in the 40s but that is a bit misleading.  Monday like today will see our highs hit first thing in the morning with cooler weather filtering in behind.  The temperature drops will be slow and the days will actually be pleasant, but temperatures will be slowly falling throughout the day for each.
Flood Concerns:
Flood concerns are going to be relatively limited this weekend due to rain totals coming in on the light side.  We forecast most would see around a half inch of rain but were concerned
and added that we would not be surprised if you saw some communities seeing closer to an inch of rain.  The sweet spot turned out to be about 35 hundredths of an inch of rain with places south seeing slightly more than that and places north of Indianapolis seeing a little less than that.  We generally were going to need to see an inch or more of rain before we began having serious concerns about river flooding.  Snow melt will continue though throughout the weekend and rivers will be higher than normal.  Caution is still advised.
A Cold Weather Twofer
You may want to get outside today or tomorrow and enjoy the warmth while you can because the bitter winter chill will be returning soon enough.  I expect that we will see a double dip tip dip with the first arriving on Tuesday morning with Wednesday highs in the teens.  Wednesday will also see a decent chance for snow through the day with the potential we could see some accumulations.  Thursday will be warmer but not for long as the second tip dip hits on Friday.  Next weekend could be cold with lows falling to near zero on Saturday morning.