This is an archived article and the information in the article may be outdated. Please look at the time stamp on the story to see when it was last updated.
Snow showers are already showing up on radar this morning the majority of this activity is not making it to the ground because the atmosphere is too dry at the surface.  The snow is just evaporating. As the day goes on, the atmosphere will moisten up and snowfall will eventually reach the ground.  A light, accumulating snow is still possible this afternoon and through this evening as this moisture continues to move in from Illinois.  It looks like we'll have the best support for more consistent snow showers north of I-70 this afternoon.  That's were up to an inch of snowfall will be possible today.  But as you can see in the map below, snowfall amounts drop off south of Indianapolis and that's where we are only expecting a dusting to maybe a half-inch of snowfall.  Most of this will fall before 9 p.m..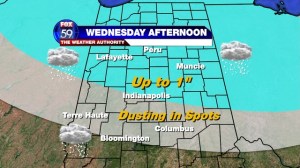 Today's snowfall will be very dry and fluffy due to how cold the air is.  This snow will look and behave just like the snowfall we saw on Monday.
Cold air comes in behind this system for Thursday and it will result in another bitterly cold day in Central Indiana.  High temperatures should only reach 20°F.
There has been much hype and speculation about the snowfall system coming in on Friday morning.  The weather models have been progressively taking down the amount of moisture with this system and that would mean lower snowfall amounts.  It's a big reason why we often hold off on snowfall numbers for events more than 4 days out because so much can change. Here's the latest evidence from the weather model numbers this morning.   The ECMWF picks up on .15″ of moisture and the GFS shows .04″ for Friday morning.  If you use a traditional 10:1 ratio, you are looking at .4 to 1.5″ of snowfall.  Granted, the atmosphere will likely give us a higher snow to liquid ratio of 15:1.  But even with that, you are looking at .6 to 2.25″ of snowfall for Friday morning.
So what does all of this mean regarding Friday?  Number 1, we need to wait for the afternoon runs to come in to see how much moisture is being detected for Friday.  Morning numbers can be a little skewed and that's why we often lean on the data that comes in around 2 PM.  Number 2, we'll probably see some light accumulating snowfall during the morning drive on Friday and yes, we could have some slick roads in Central Indiana.  You will need to allot some additional time for your morning drive to work as conditions may warrant a slower pace.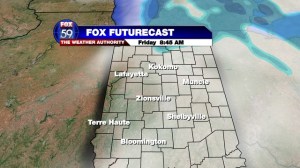 Chief meteorologist Brian Wilkes and myself will be crunching the numbers this afternoon and will debut the latest forecast from 4-6 PM.  Make sure to tune in and as always, we'll be posting information online too.