This is an archived article and the information in the article may be outdated. Please look at the time stamp on the story to see when it was last updated.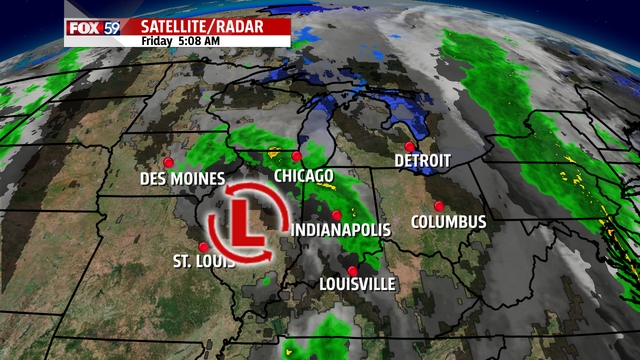 The cool weather will stick around through at least Saturday morning with highs struggling to hit the mid-50s today.  Light rain and mist is expected off and on as well.  This may slow things down at the Indianapolis Motor Speedway when it comes Fast Friday and the first day of qualifying on Saturday.  We also cannot rule out a weak thunderstorm or two forming this afternoon.  While most of the day will be cloudy, we may see some sun between the clouds this afternoon.
I do have a couple of concerns going into the next couple of days.  The first isn't as much a concern as just plain interesting.  We may see temperatures dipping just enough to allow us to see some snow flurries Saturday morning.  The only factor at this point is going to be how far temperatures fall at the surface as everywhere else will be plenty cold enough.  Our 540 line will slide through overnight tonight with us seeing our 1000mb-500mb thickness level falling all the way to 535.  Remember anything lower than 540mbs is generally considered cold enough for snow.  It does depend on other factors including how cold it is at the surface, if there are any areas on its journey down that are above freezing and even the dew point or dryness of air overall.  The drier the air below where precipitation forms the higher the likely it remains snow and doesn't melt.  But that also ups the chance that the snow or moisture will evaporate.  Make sure you send us in any pictures you have of any flurries you may see.
My main concern is with the possibility for frost.  It's going to be close as temperatures are expected to fall to around 36° on Saturday morning.  The good news here is that temperatures will not be at or below 36° for long if we fall that low.  Hopefully this will limit the potential damage done to any tender vegetation.  The good news is that we do begin to warm up starting on Sunday and continuing into next week.  The week leading up to the 500 is looking pretty good.  Enjoy your day!