This is an archived article and the information in the article may be outdated. Please look at the time stamp on the story to see when it was last updated.
SPENCER COUNTY, Ind. – A southern Indiana animal shelter is under investigation after an employee said she was told to freeze cats alive to euthanize them.
Bridget Woodson, a former employee at the Spencer County Animal Shelter, said her boss instructed her twice to put cats in a freezer, reports WEVV. Woodson said she took the animals to a veterinarian to be humanely euthanized instead.
"The first time I was asked, I was given an option and the cat that did come in was a kitten and it had been sucked up into a car and run over, so it was in really bad condition," Woodson told WEVV. "[The director] mentioned putting it in a freezer then. I mean she could tell I was uneasy about it, and she said but don't worry you can take it to the vet."
Investigators said they're unsure how many cats have been euthanized in that manner but are aware of at least two occasions in which it happened.
Woodson said a text conversation showed Spencer County Animal Control Officer Christina Payne believed putting the animals in the freezer was no less humane than taking them to a vet.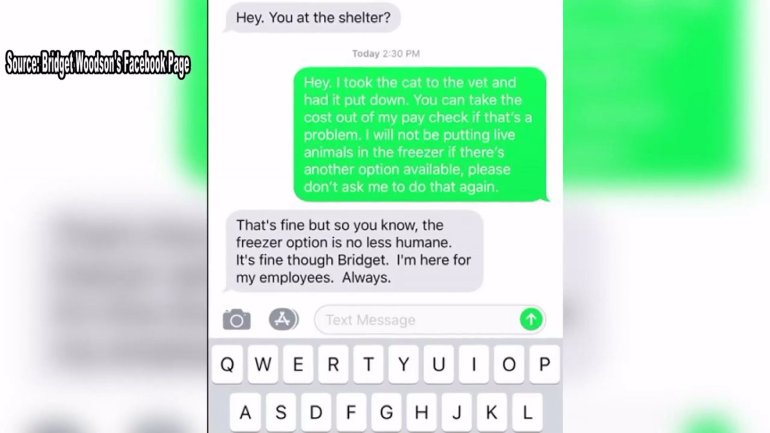 "If you read the texts it acknowledges, you know what was said, and the fact that she thinks, you know putting an animal in the freezer is no less humane than taking it into the vet and having it put down," Woodson said.
Woodson said she went to the board to express her concerns. She resigned from her position after not seeing the board take action, she said.
The Spencer County Animal Shelter hasn't commented on the allegations. The shelter's Facebook page has been taken down, and a sign placed on the door over the weekend said it will no longer accept or adopt out any cats.
The Spencer County Sheriff's Office conducted the initial investigation but said the state will take over, citing conflict of interest in one county agency investigating another county agency.