This is an archived article and the information in the article may be outdated. Please look at the time stamp on the story to see when it was last updated.
UPDATE (November 2,2016): Cameron Tibbs was found not guilty of murder. He was found guilty of carrying a handgun without a license and obstruction of justice def. knowingly or intentionally in an official proceeding. He is set to be sentenced on December 12, 2016.
INDIANAPOLIS, Ind. (Dec. 18, 2015)– The Speedway community plans to gather at the high school Friday night to remember 2003 graduate David Bowman.
Bowman was shot and killed Saturday at the Phillips 66 gas station located at 2401 Lafayette Rd.
Cameron Tibbs, 17, turned himself in to police this week for the shooting. Prosecutors are charging Tibbs as an adult for the murder.
"(Bowman) had a passion for soccer as well as a passion for people, having fun and he was just a very fun loving kid," Bowman's father, William Bowman, said about his son.
Bowman played soccer at Speedway High School all four years and went on to play in college at Oakland City University on a scholarship. He worked at the FedEx Distribution Center at night and cut hair during the day.
Bowman also enjoyed playing the lottery, according to his brother Michael Bowman.
Saturday night, Bowman went to cash two winning tickets at the gas station totaling $150.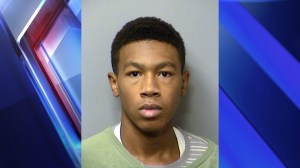 On his way out, he dropped the money and someone else picked it up. When Bowman went to get the money back, he got shot.
"It just doesn't make sense you can kill someone over $150," Michael Bowman said.
"I would given him my house if they wouldn't have shot him," William Bowman said.
The Bowman family said they hope David's death does not go in vain and his murder can serve a larger purpose.
"I'm pretty much going to dedicate the rest of my life to seeing if I can't make a difference," William Bowman said. "If we save one life or make one of these not happen for the rest of my life it will be worth it, because no one should have to go through what we are going through right now."
A friend of David Bowman, Sheena Bannon, started a GoFundMe page on behalf of the family.
Bannon would like to use the money for a community outreach barbecue and to start a little league team.
"Anything that gets a sense of community brought back," Bannon said. "We have to find a way to make a difference."
William Bowman said he'd like to use the money raised to start his own, "Stop the Violence," campaign.
He wants to have t-shirts, wristbands and signs made in honor of David.
"Everybody in this city is scared and everybody in the city is mad and people are tired of it," William Bowman said.
The family plans to hold a celebration of life for David in May on Carb Day. They said Carb Day was very special to David and his favorite day of the  year.
Bowman's candlelight vigil is at Speedway High School Friday, Dec. 18 at 8 p.m. and his funeral service will be at the Speedway Moose Lodge #500, 4917 W. Vermont Street, at 1 p.m. Saturday, Dec. 19. A calling will begin at 9 a.m. at the lodge.