This is an archived article and the information in the article may be outdated. Please look at the time stamp on the story to see when it was last updated.
SPEEDWAY, Ind. — A man who is accused of stabbing and killing his mother Sunday night in Speedway has been found after he was shot in downtown Indianapolis Monday evening.
Just after 6:30 p.m. Monday, officers were called to 120 East Maryland Street in response to a person shot. When they arrived, they found Vinson Edge suffering from a gunshot wound to the leg, according to police. IMPD says the shooter told them he shot Vinson after he lunged at him and tried to grab his gun. The shooter then called 911, remained on the scene and is cooperating with police.
The homicide occurred Sunday around 9:30 p.m. in the 5400 block of White Horse Road, near West 22nd Street and North Lynhurst Drive.
Vickie Edge, 58, was pronounced dead at the scene.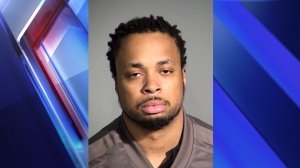 The Speedway Police Department announced they were looking for Vinson, 39, who is a suspect in the case. Vinson is the victim's son.
Phillip White lives next door to the victim. He said he is the one who called 911 after it happened.
"Up all night, didn't get no sleep," said White.
Rachel Morton also lives next door to the victim but said she wasn't home when this happened.
"To hear about that you know, coming home to that to find out that a son stabbed his mom, I just I don't know how they'd do it," said Morton.
Neither does White. He said Vickie was very kind.
"Kind of like my mama yeah, we check on her a lot of times she check on us all the time, we helped her out, she helped us out," said White.
Anyone with information about this case is asked to call Speedway police at 317-246-4300. Anonymous tips can be reported to Crime Stoppers at 317-262-TIPS.